Rustled Leaves - Patch #77

Hello folks it's balance patch #77! We've got some exciting changes and tweaks to a few underperforming cards and some nerfs to overperformers. Much like these leaves 🍃 we've rustled some Prisms as well! Yes, we're talking Prisms shifts!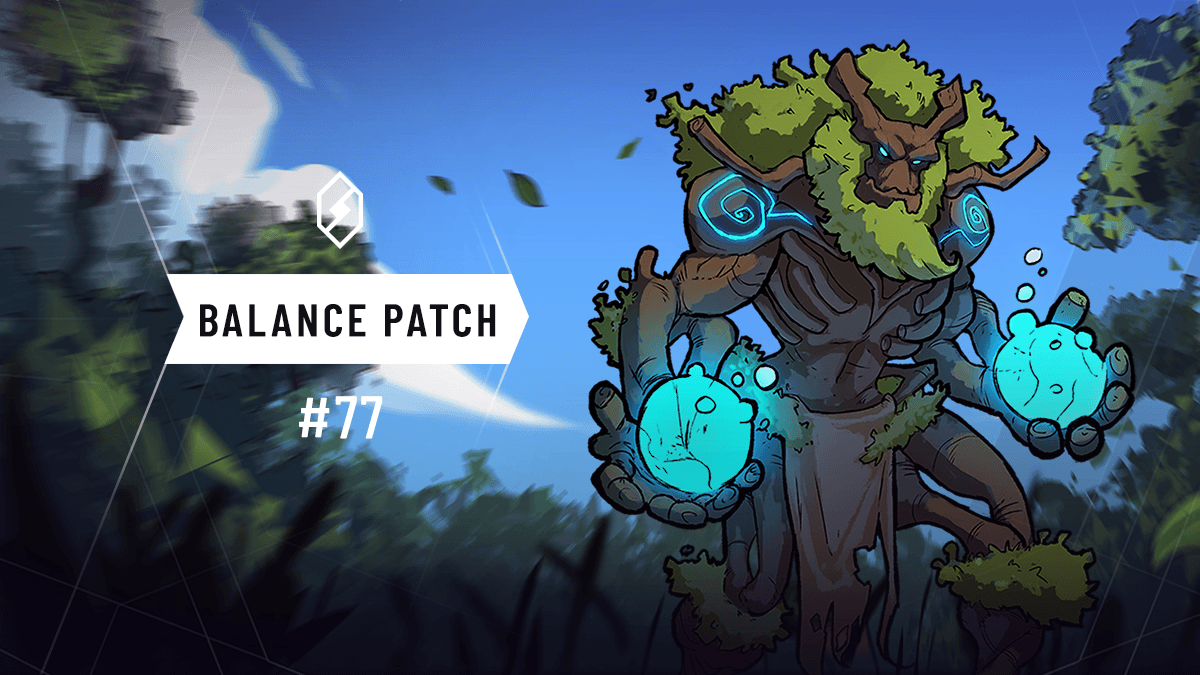 📺 Band Together friends! Stand tall like Treebeard uhh Earth Warden.
Bugfixes 🐛
Fixed a bug where Sky Keeper was preventing the cost of a unit pulled by Eldritch Lore from resetting at turn end.


Welcome Everyone to lucky patch number 77! Our luckiest patch ever (at least until patch 777 in 20 years) We've got some exciting changes and tweaks to some underperforming cards and a few nerfs to overperformers, as well as an exciting change Matthew and I have been working on for a bit! So let's jump in!
Hail of Arrows (1038)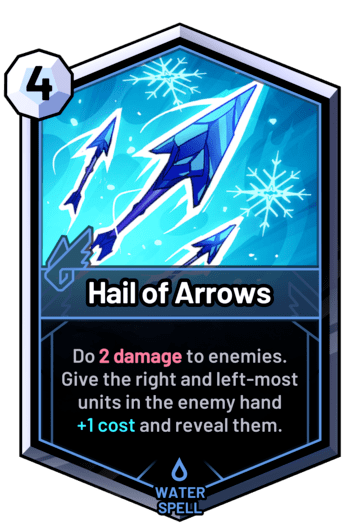 Text: Do 2 damage to enemies. Give units in the enemy hand +1 cost. ➞ Do 2 damage to enemies. Give the right and left-most units in the enemy hand +1 cost and reveal them.
Hail was an incredible tempo tool reminiscent of pre-nerf Ill Will, clearing enemy boards and slowing down any subsequent plays via its hand debuff, so we've toned it back in the same way as Ill Will, allowing it to only debuff the left and rightmost enemy units in hand while also revealing them. This should leave it in a good place while toning it back slightly, especially in unit heavy matches.
---
Tactician (2088)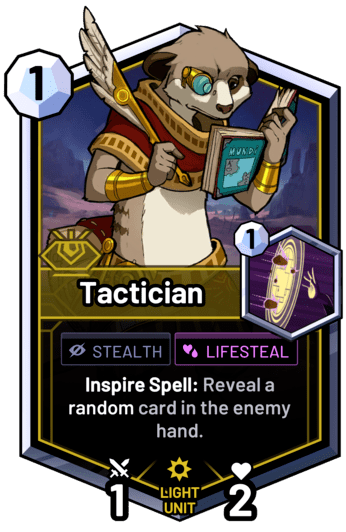 Health: 1 ➞ 2
Small +1hp buff to a Wisdom underperformer, making it a bit more durable.
---
World Tree (2094)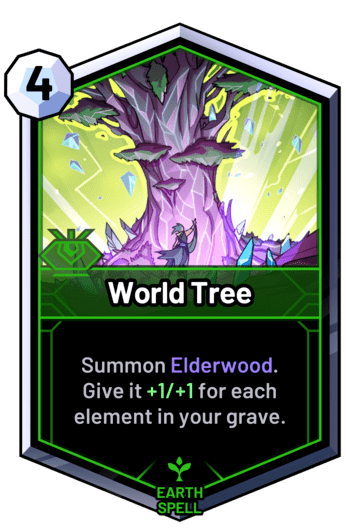 Cost: 5 ➞ 4
Text: Summon Elderwood. Give it +1/+1 for each element in your grave. Give it banner. ➞ Summon Elderwood. Give it +1/+1 for each element in your grave.
Another Wisdom buff, World Tree was a really iconic and potent reward for Rainbow decks, but had fallen way down in the stats since being raised to 5c, so moving it back to 4c to give it some of its tempo strength back.
---
Soul Guide (3006)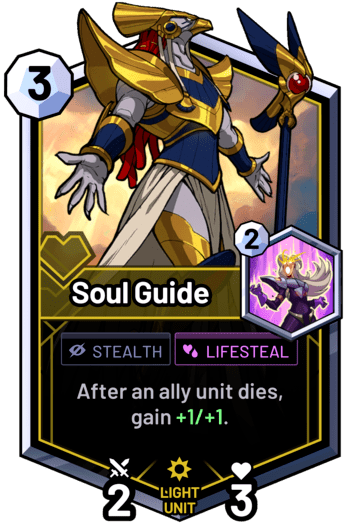 Health: 2 ➞ 3
Another small buff to an underperformer, Soul Guide is a really iconic type of effect for HRT but the pitiful statline made it pretty unusable, so adding a bit more bulk to allow it to scale up to a higher health total a tad faster.
---
Royal Mummy (20016)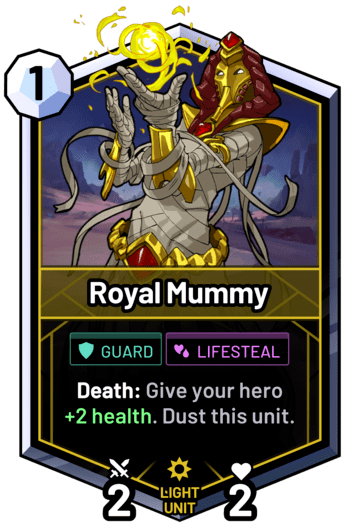 Traits: guard ➞ guard,lifesteal
An exciting change to a token here in service of buffing several midrange cards at once. Raise Arms, Vishiva and Cleo all had fallen off a bit lately, plus mummies never really recovered after their self-dust clause was added, so now they have the potential to heal a bit more via Lifesteal. This shouldn't be too huge of a buff since they tend to be run over by opposing units anyways, but it should give them a bit more value in the midgame.
---
Cleo (3047)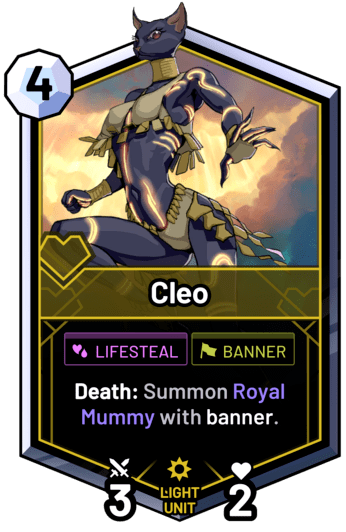 Text: Death: Summon Royal Mummy with lifesteal. ➞ Death: Summon Royal Mummy with banner.
Now that mummies have Lifesteal Inherently, Cleo's mummy gains banner on summon, adding some extra value to it while reinforcing the flavorful feeling of her returning as a mummy on death.
---
Evermore (3075)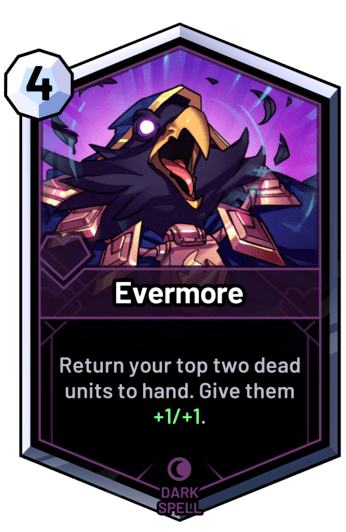 Text: Return your top and bottom dead units to hand. Give them +1/+1. ➞ Return your top two dead units to hand. Give them +1/+1.
Small buff/change to Evermore, now fits more cleanly as an analogue to Manage Memory, returning the top 2 dead units to hand, rather than top and bottom, adding additional value to the effect, as the topmost units are generally far easier to control.
---
Heavy Cavalry (81)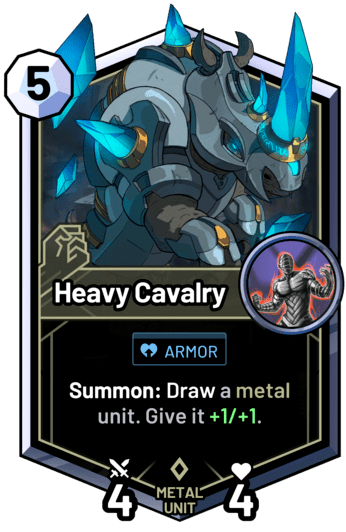 Power: 3 ➞ 4 A change Matthew proposed, buffing up an underperforming midrange unit with a tad more power to let it punch harder.
---
Earwig (94)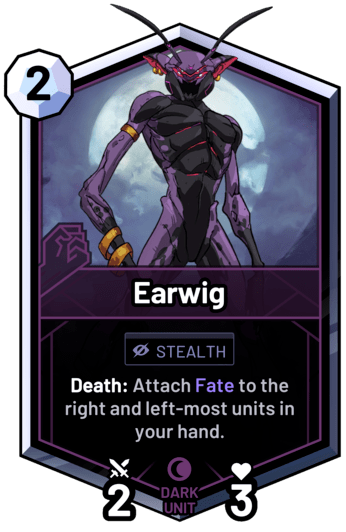 Text: Death: Attach Fate to units in your hand. ➞ Death: Attach Fate to the right and left-most units in your hand.
The Dark Ada deck has remained strong, and I mulled over a number of tweaks to earwig to try to curtail its power, and settled on this proposal of Matthew's as the cleanest. Earwig still effectively gives +2 draws on death in the long run, which is still pretty dang good for a well-statted 2 drop, and honestly just goes to show just how powerful it really was.
---
Earth Warden (2072)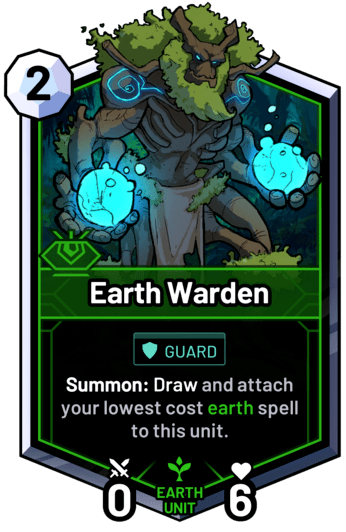 Health: 5 ➞ 6
A slight buff to a valuable wisdom stall tool that had fallen off in terms of viability, letting it absorb a bit more face damage and buy more time for its user.
---
Meranda (3057)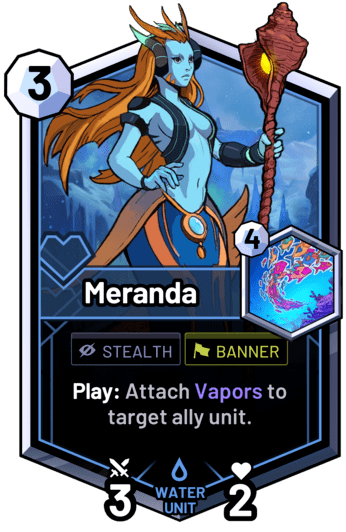 Power: 2 ➞ 3
Meranda was still underperforming, so we're giving her +1pow, as a minor buff to let her brawl better on curve.
---
See Shore (3093)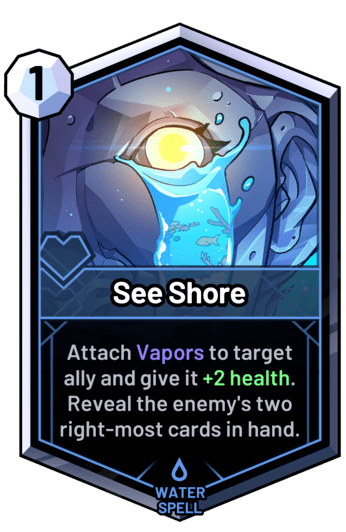 Text: Attach Vapors to target ally and give it +1 health. Reveal the enemy's two right-most cards in hand. ➞ Attach Vapors to target ally and give it +2 health. Reveal the enemy's two right-most cards in hand.
A minor buff. The +1hp seemed kind of comically small and rarely made an impact. At +2hp it feels more meaningful and purposeful.
---
Band Together (18)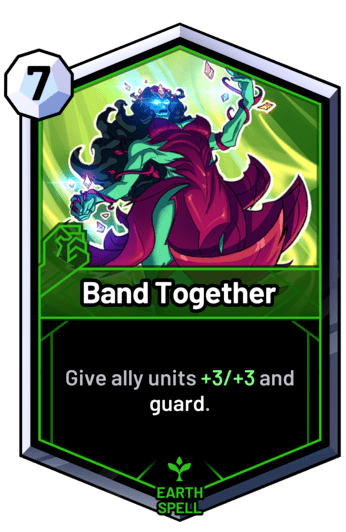 Text: Give ally units +1/+1 for each element among ally units. ➞ Give ally units +3/+3 and guard.
Traits: banner ➞ None
I've saved one of the more exciting changes until near-last. Band Together was always stuck somewhere between overwhelming and useless, and its reliance on elements to work gave it a kind of Wisdom feel. This new design keeps it more in the middle, removing the super high rolls but also allowing it to be employed effectively with cards like Wall of dead for massive buffs, offering a powerful closing tool for midrange strategies. It may be a tad potent, so I'll be watching it with interest. 7c is a fair amount of mana to invest though, so I think it should land in a fairly acceptable power range.
---
Kha's Wrath (59)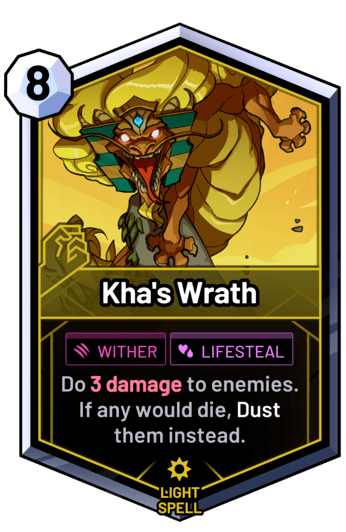 Text: Do 3 damage to enemies. Dust any killed instead. ➞ Do 3 damage to enemies. If any would die, Dust them instead.
Not a mechanical change, just text clarification, making it clear that Wrath dusts the units it kills without triggering their death effects. Maelstrom received a similar language clarification as well.
C - Finally, we have a really exciting improvement in the form of some prism shifts that Matthew proposed and that we workshopped together for a few weeks now to get them in a good position.
M - Thanks, Coulter! We talked about this change for a while and received feedback that the community would like it. It's going to be a great thematic change seeing more prism aligned removal spells.
Dead Weight (69)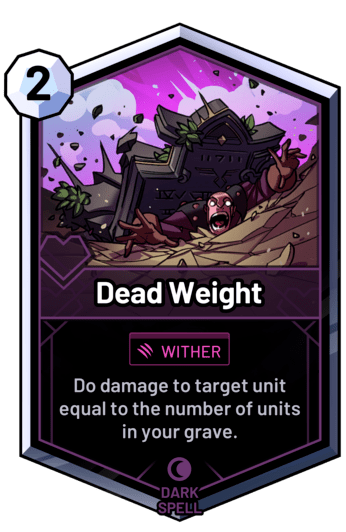 Prism: str ➞ hrt
M - Dead Weight has always felt like a hrt card, and many members of the community have also shared this sentiment. Hopefully this removal will be more thematic and powerful in graveyard centric strategies.
C - Yup, absolutely agreed, scaling based off cards in the grave is very appropriate for Heart!
Charkram (4036)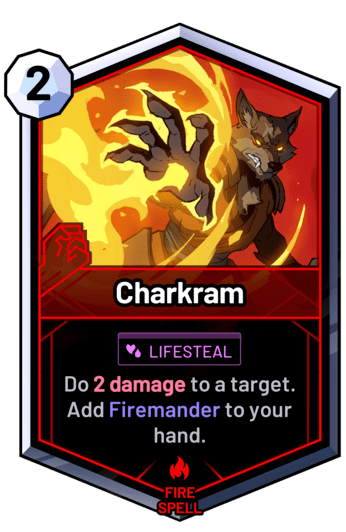 Prism: int ➞ str
M - Ada asked us for more Firemanders so now you can cast Charkram and Mothermander together more.
C - Indeed! Chakram is a great card for fire synergy, and likely the strongest card being swapped, so we gave the card we swapped to Intellect a bit of a bump to help compensate.
---
Anoint in Flame (3004)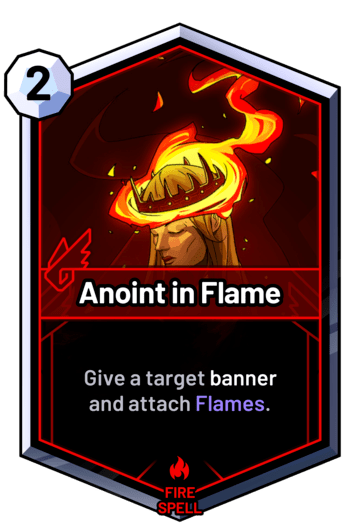 Prism: hrt ➞ agy
M - Trading Anoint for Dead Weight felt perfect thematically, agy always wants more flames and banner, hrt always wants more scaling removal and ways to interact with the graveyard.
C - Absolutely, this was a card that has always felt Agility themed to me, but I was never 100% sure what to swap for it. Agility really loves to attack with its hero, so the flavor here is on point and it also fits nicely into Agility's self-damage theme.
---
Mad Vibes (1023)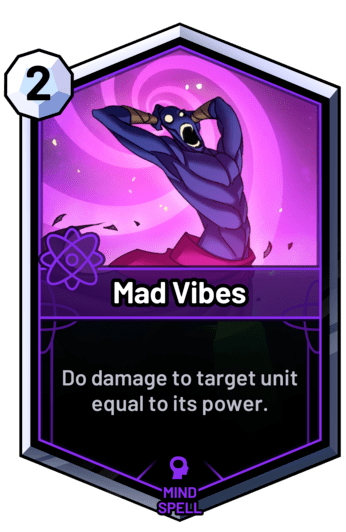 Cost: 3 ➞ 2
Text: Do damage to target unit equal to its power. Mulligan spells in its player's hand. ➞ Do damage to target unit equal to its power.
Prism: agy ➞ int
M - Mad Vibes was underutilized and didn't have the highest impact. Now it's a premium removal spell in int at 2 cost. Always happy seeing more Mind cards in int too.
C - Yeah, Intellect definitely gave up the best card in this four card exchange, so I wanted to make sure we gave it back something good in return so we buffed up Mad vibes to compensate. Mad Vibes also always felt a tad out of place in Agility.

Recent Posts


Recent Posts