Hello Skyweavers! We know many of you have been eager to learn more about our economy, and today, we're excited to reveal our Economy Overview!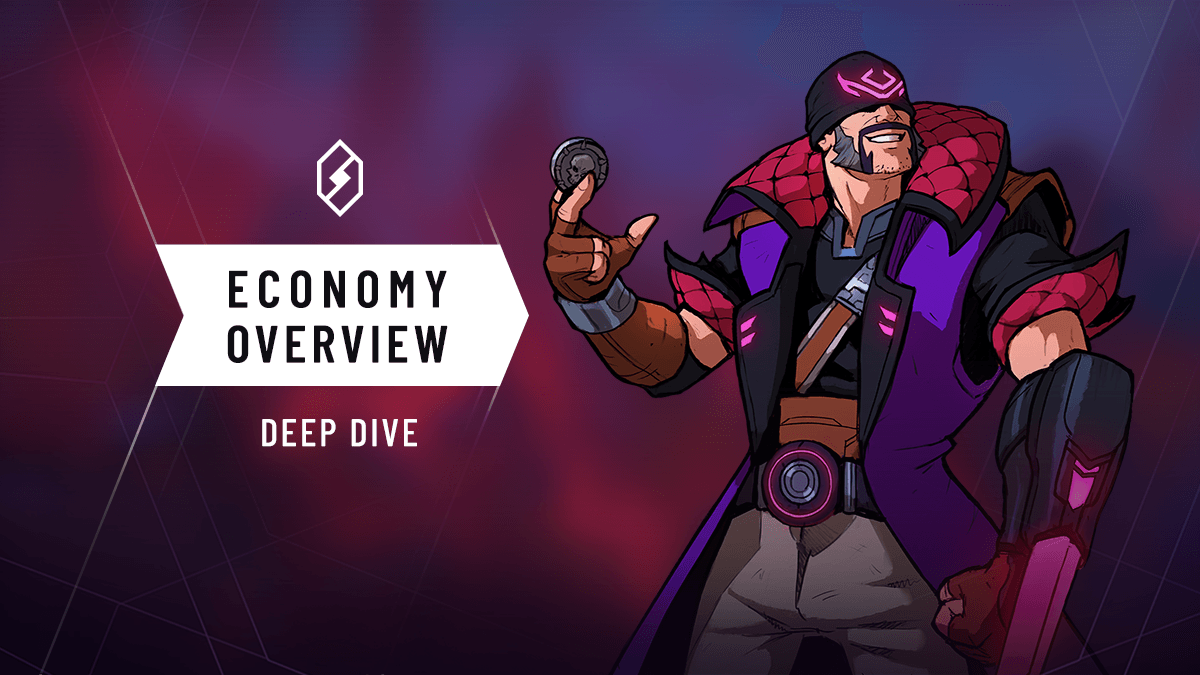 The features detailed here are live now! We'll lay out the most important features you need to know in this blog post, but if you've still got questions, head to our Support page for a detailed FAQ.
An Economy Designed For Players
Before we dive into the details, we want to reiterate our commitment to building a sustainable game with an economy that serves our players. Skyweaver's design sees you, and all other players, as the drivers and shapers of the economy, which is why we call it a player-owned economy. ⚒️ Horizon simply provides the tools you need to have fun and participate in it. The rest is up to you!
Let's dive in so we can explain why you should be as stoked about it as we are!
What is a Player-Owned Economy in Skyweaver?
Skyweaver's economy is owned by you, the players. Players determine how many cards are created, and how the cards are valued on the Market based on supply and demand. In short, players control the economy and the value of cards based on the number of cards they forge through different game modes, the demand for certain cards on the Market, and the number of players offering cards for sale on the Market.
Together, we're breaking new ground with an in-game player-owned marketplace using tradable items you can own and trade from player to player.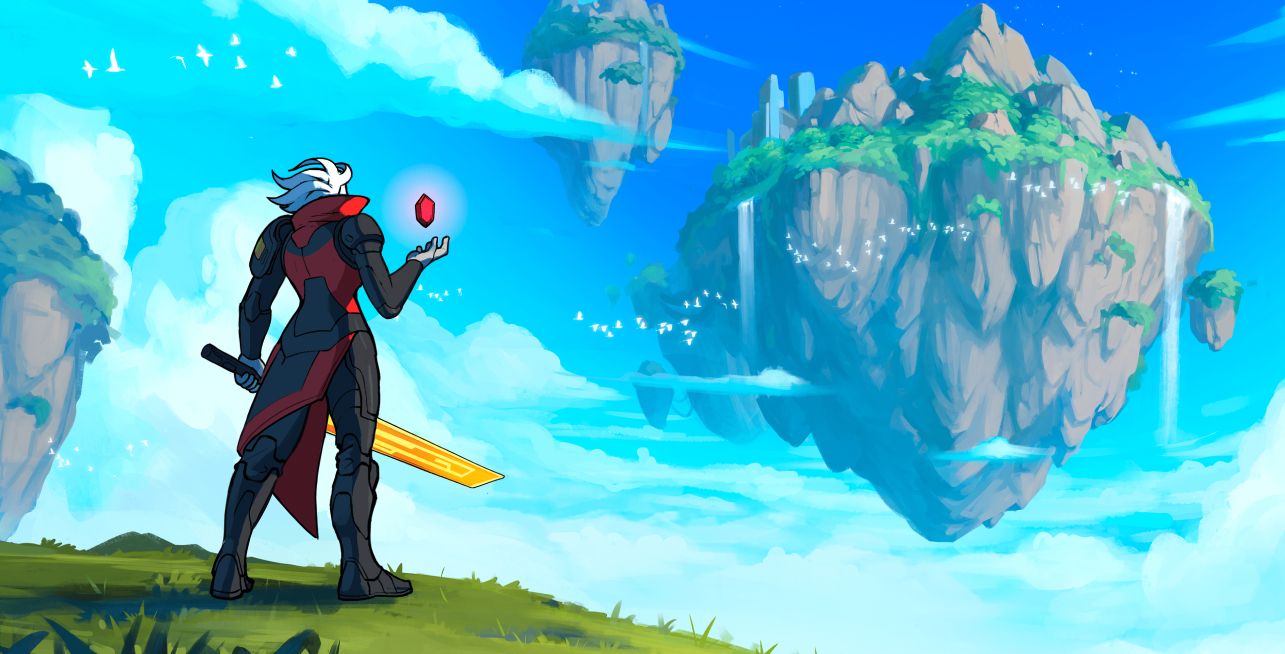 Tradable Cards. For Real.
Skyweaver is a digital trading card game with actual trading. The term "trade" describes any transaction on the Skyweaver Market, which includes buying, selling, trading and gifting. A tradable card is the property of a player who has won it, purchased it, or received it through a trade. Tradable cards are stored in your Sequence Wallet. You can choose to keep them to play with, trade them on the Market for USDC*, or gift them to a friend.
USDC is a cryptocurrency where 1 USDC = 1 USD. Learn more here.
How do tradable cards work?
To answer this question properly, we need to look behind the scenes at the blockchain technology that supports our player-owned economy. We know many of you aren't familiar with how blockchain works, and that's okay. You don't actually need to understand it to enjoy playing Skyweaver. But, to explain it simply, our economy is built on the Ethereum blockchain, and each tradable Skyweaver card is securely registered as what's called a "token" on the blockchain. Each token (i.e. each tradable card) is owned by the person in possession of it and can be traded, gifted or sold. You might have heard of NFTs. Well, in Skyweaver, you can play with, win and trade them!
For those familiar with Web3 and blockchain, Skyweaver will be running on the Ethereum sidechain Polygon (Matic)
To learn more about Ethereum and how the blockchain works, click here!
Card Grades

There are three grades of cards in Skyweaver: Base, Silver, and Gold.
Base: These are not tradable. They are tied to your Skyweaver account and acquired by leveling up.
Silver: These are tradable. They can be won via Ranked Rewards and Conquest
Gold: These are also tradable, but can only be won via Conquest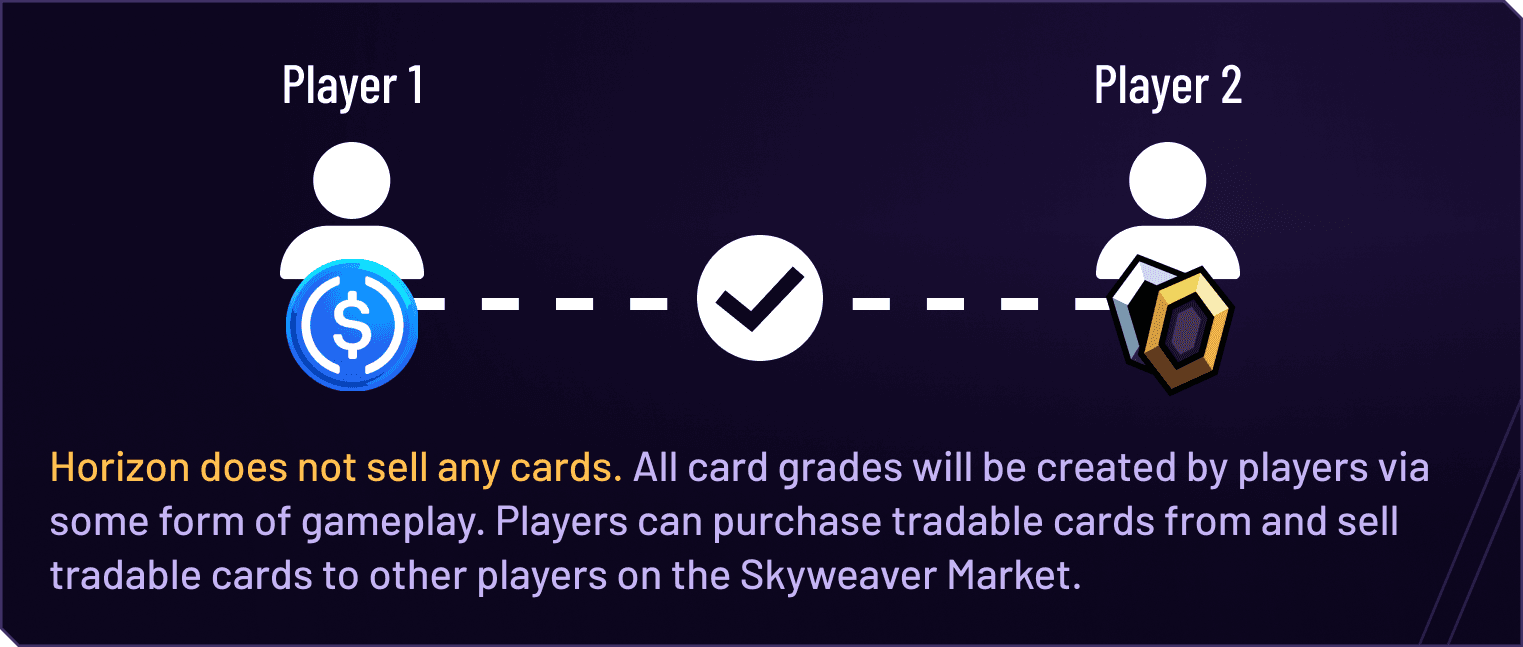 Base Cards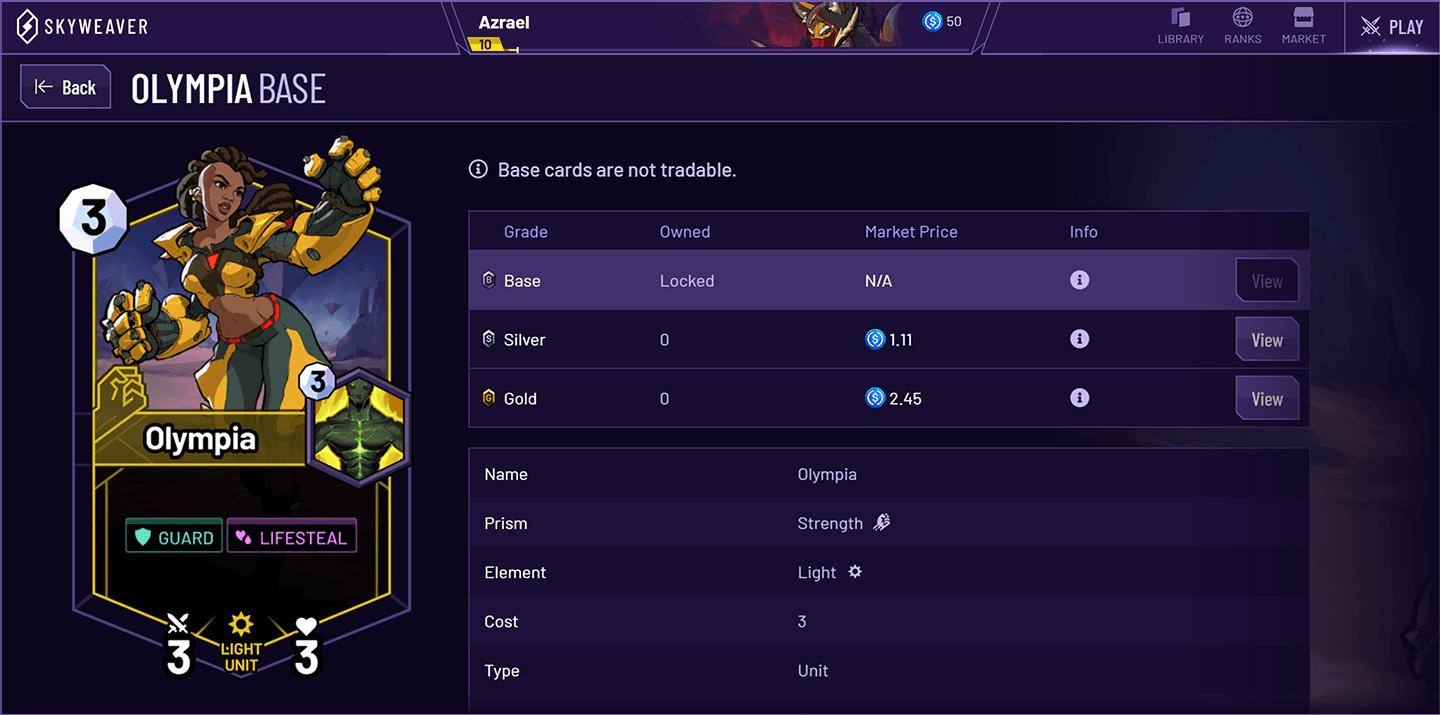 You'll be able to unlock Base cards by completing matches, accumulating XP and leveling up. We have 600+ cards to unlock, and you can use these Base cards to build decks that suit your playstyle. All Base cards can be unlocked entirely for free, which means anyone can enjoy playing Skyweaver, building decks, and competing in matches. Base cards are not tradable.
Silver Cards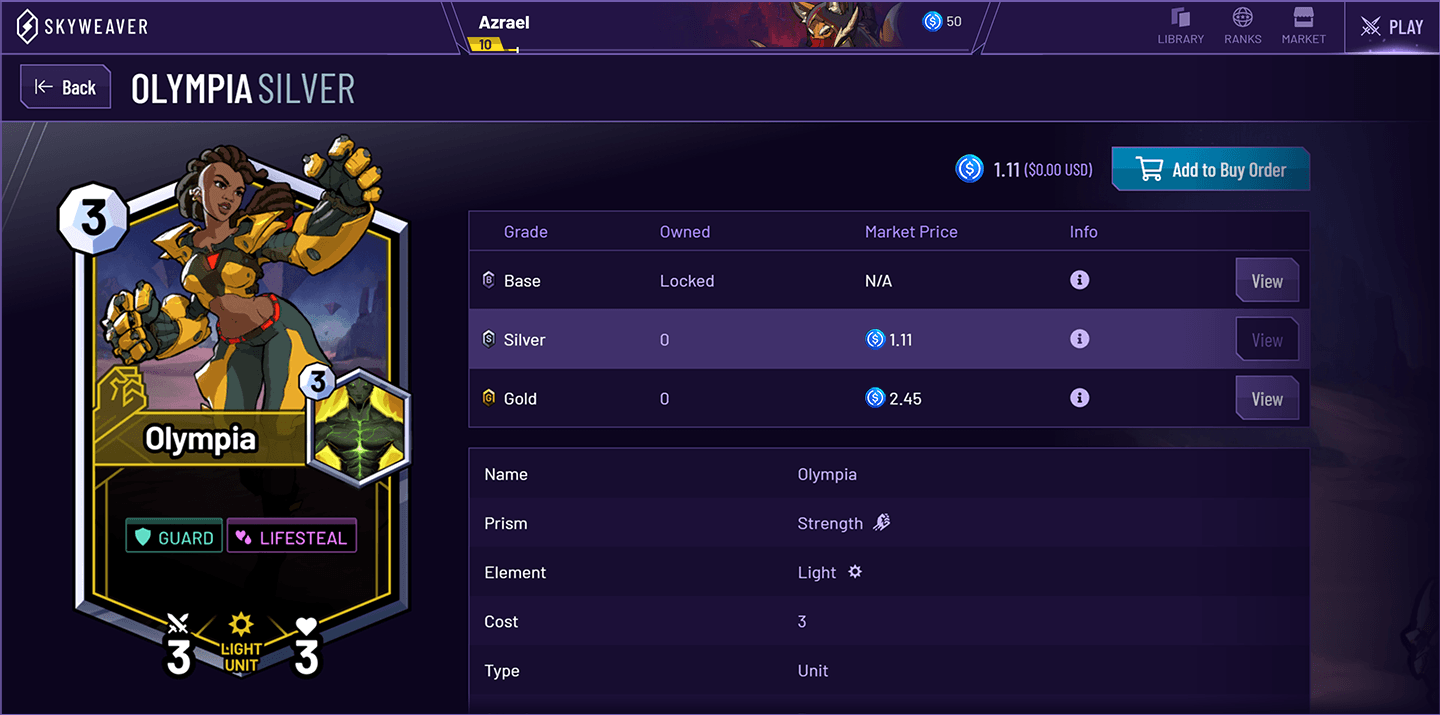 Silver cards are the tradable versions of Base cards. If you own Silver cards, you can sell, trade, gift, collect, and play with them—the choice is yours! There are four differentiators between a Silver card and Base card:
Silver cards have a shiny silver border, rather than the purple Base card border.
Silver cards are tradable, meaning that they are your property, and you can trade them on the Market or between friends. Base cards are not tradable.
Silver cards can be acquired by ranking at the top of the leaderboards each week, by purchasing them on the Market from other players, or by winning Conquest matches. Base cards are unlocked for free by playing matches and earning XP.
You can trade in 1 Silver card for 1 Conquest ticket. You cannot trade in Base cards for Conquest Tickets.
Who provides Silver cards in the beginning when no players are selling their cards in the Market yet?
Yes. To kickstart the Skyweaver economy at Soft Launch, Horizon will provide an initial supply of 40 copies per Silver card starting at ~1.5 USDC each and will also provide 25 copies per Gold card starting at ~10 USDC each to the Market. You can learn more about how the Skyweaver Market works in this post!
Gold Cards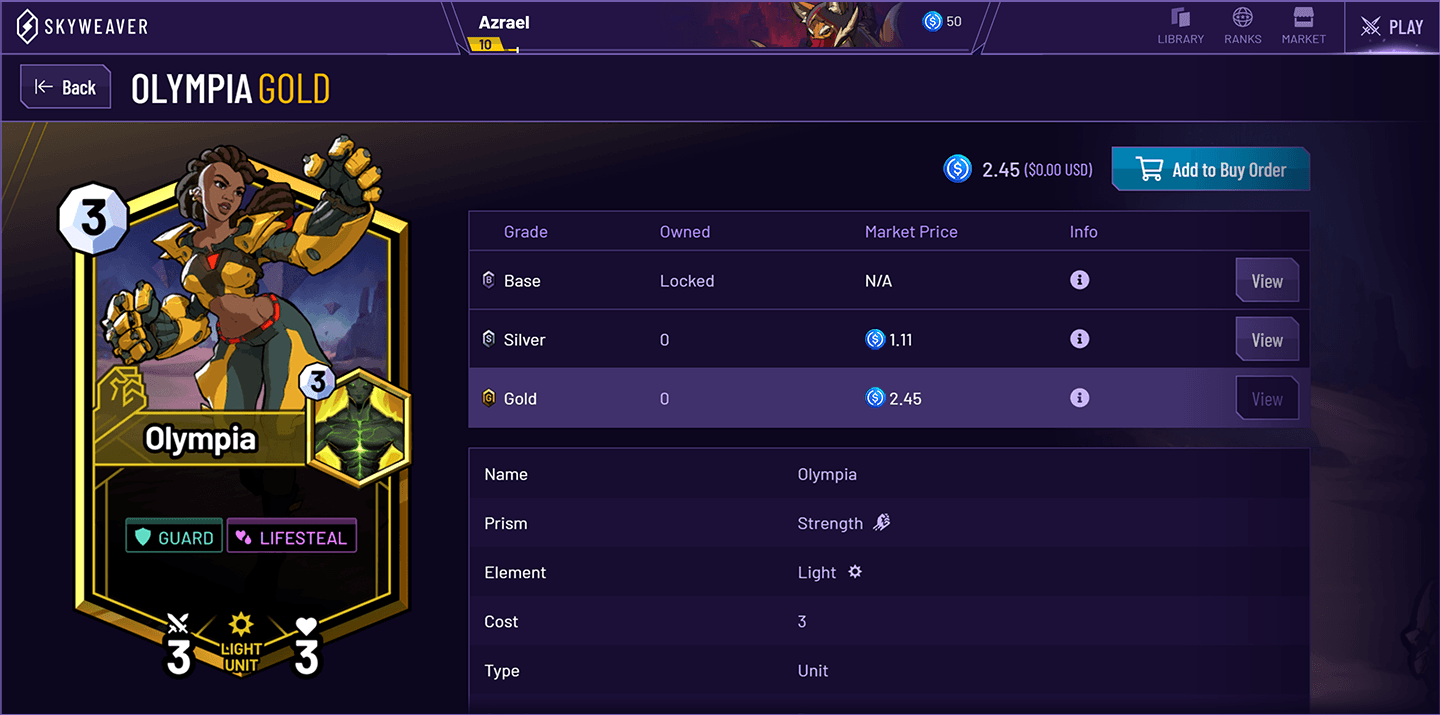 Gold cards are trophy versions of cards that are created and acquired by winning all three matches in a Conquest. More on Conquest in this post. Golds are tradable and have all of the functionalities of Silver cards, but with a gold frame and a limited supply. Since these Golds are trophy cards, they are rarer and won't be as prevalent in the Market as Silver cards. There are three key differences between Silver cards and Gold cards:
Gold cards have a shiny gold border.
Gold cards can only be acquired by winning all three matches in a Conquest, by purchasing them on the Market, or trading them between friends.
"Weekly Golds": Every week, there will be four (4) different Gold card selections that can be won via Conquest. In other words, of the 600 different Skyweaver cards, four of them can be won via Conquest in a given week. Once the week ends, these four Gold card selections won't be available to win again, and then you'll only be able to acquire them from other players on the Market.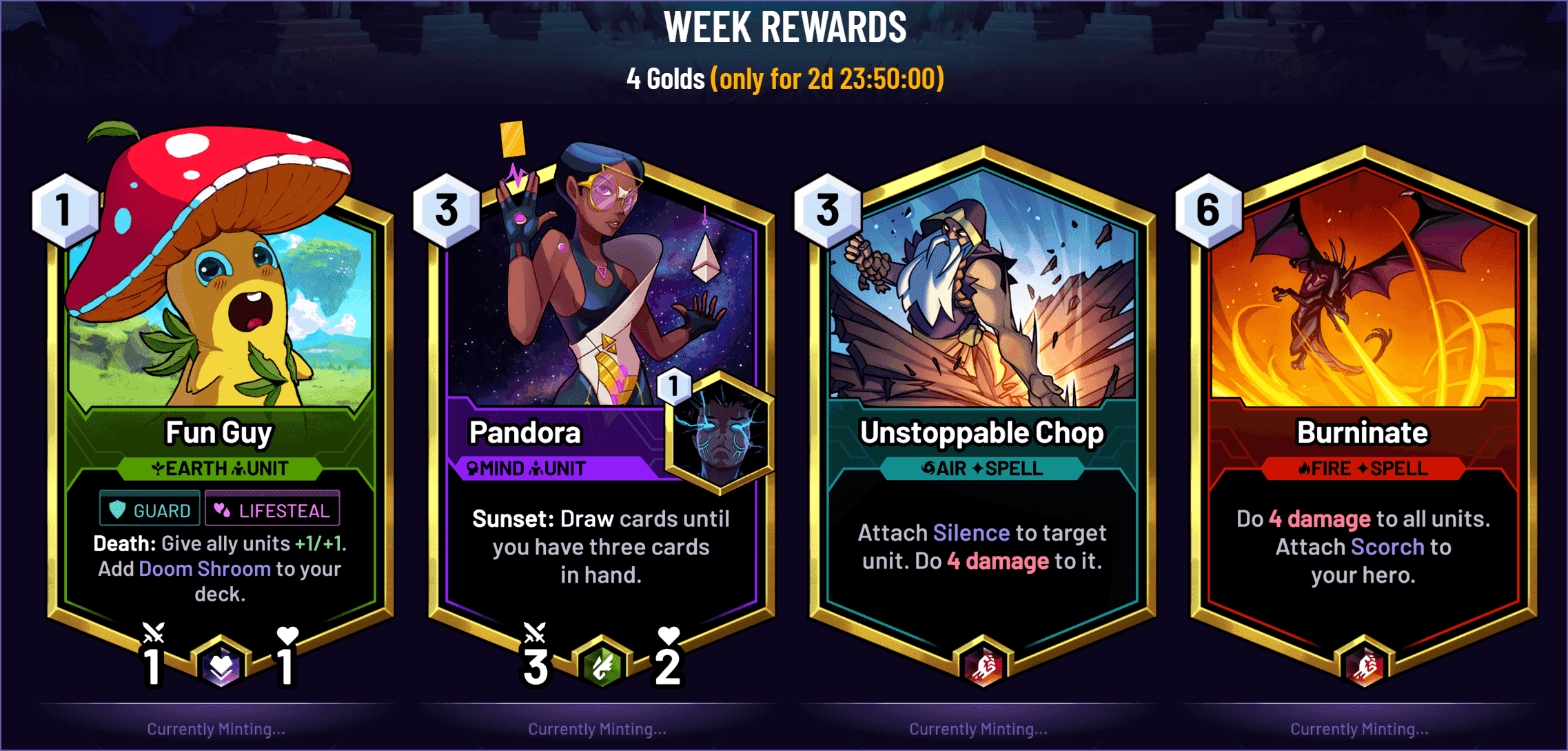 How Weekly Golds work:
Let's imagine that in week one, the 4 Gold selections available are Fun Guy, Pandora, Unstoppable Chop, and Burninate. During the week, 50 Fun Guys are won via Conquest. This means that only 50 Gold Fun Guys will ever exist*. So, the more Conquests are played in a given week, the higher the supply these Weekly Golds will have. This also means that it will take time for all cards to exist as Golds, since we have 600 cards and counting in the game. Remember that players can only buy Silvers and Golds from other players. Horizon does not sell cards.
*There may be alternative art versions of the same Gold card available to win in Conquest far in the future
Same Gameplay, Different Ways to Acquire
Silver and Gold cards do not offer any gameplay advantage over Base cards. The key differentiators between card grades are their cosmetics, tradability, supply, and how they're created and acquired!
Silver and Gold cards each have different ways of being acquired. Let's dive into that right now.
Acquiring Silver Cards: 3 Methods

Method 1: Win Weekly Ranked Rewards
The top ranked players on the competitive leaderboard in Constructed and/or Discovery will be awarded Silver cards. The higher you rank, the more Silver cards you'll win. You can check out the exact distribution model for Soft Launch here! The Silver card(s) will be deposited into your Sequence Wallet.

This means the more skilled you are compared to other players, the more likely you'll get that Silver! These Ranked Rewards are distributed every week, so there's always a reason to play!
Method 2: From Other Players on the Market
The only way to purchase a Silver is from another player that is selling it on the Market. This is what a truly player-owned economy looks like!
Note: to kickstart the economy at Soft Launch, Horizon will provide an initial small supply of Silvers to the Market. Horizon will not earn revenue with this initial bootstrap of the market.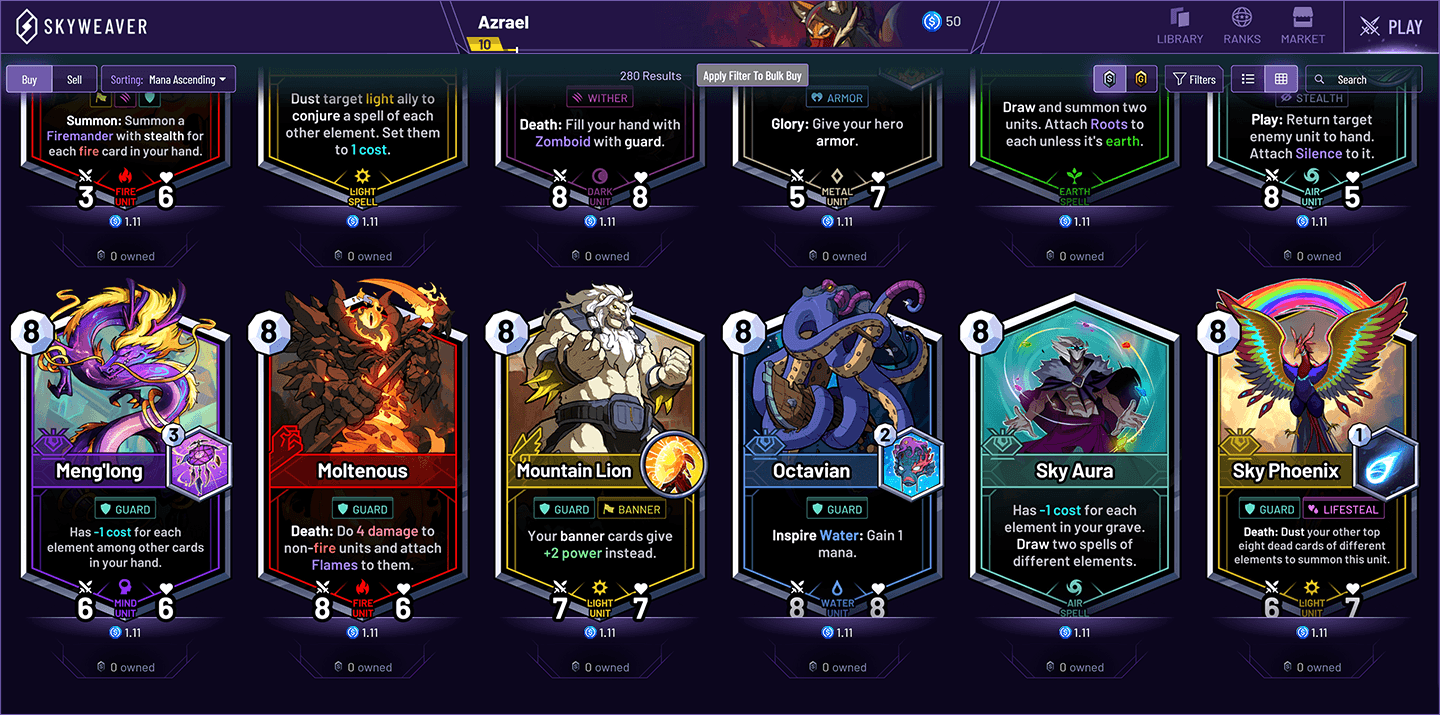 Method 3: Win Games in Conquest mode
You can also win Silver cards by winning matches in Conquest—a tournament-style competitive game mode. Learn all about Conquest in this blog post.
During a Conquest, you get the following rewards:
1 win: 1 tradable Silver card
2 wins: 2 tradable Silver cards
3 wins: 1 tradable Gold card + 1 tradable Silver card
Acquiring Gold Cards: 2 Methods

These trophy Gold cards are a little harder to come by since they aren't distributed in weekly Ranked Rewards. Here's how to get Golds:
Method 1: Win all Games in Conquest Mode
By winning all three matches in a Conquest, you'll receive a Gold card as your trophy. These trophy Golds will separate the most skilled players from the rest. Learn all about Conquest in this blog post.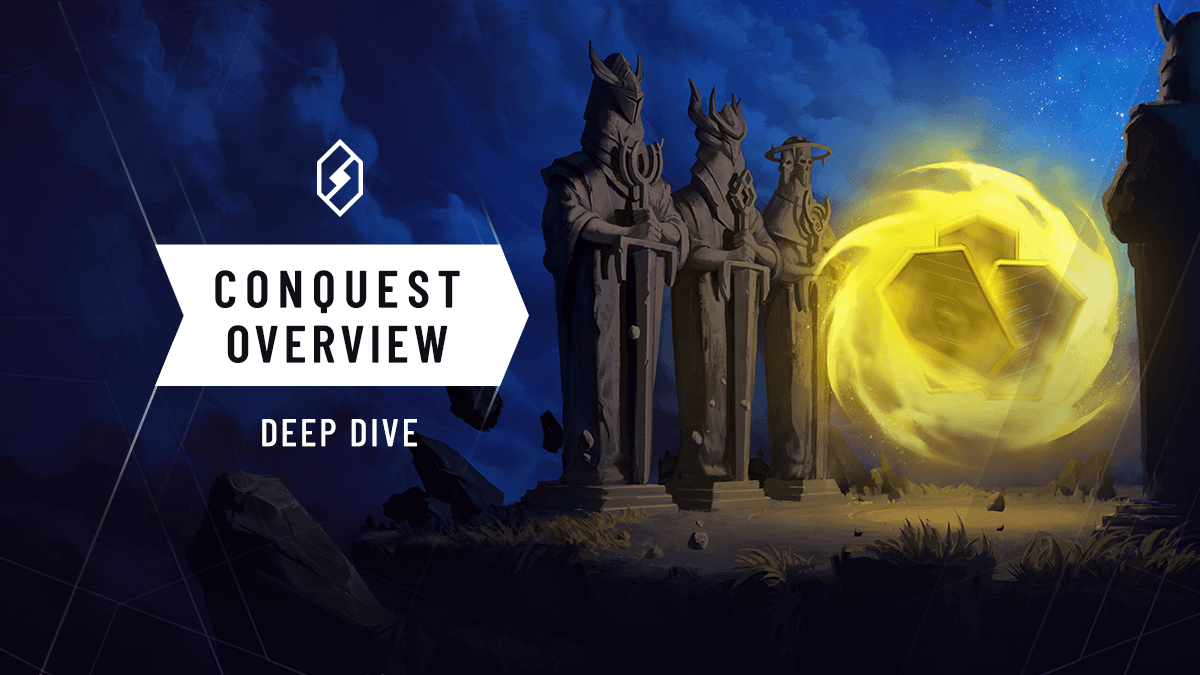 Method 2: From Other Players on the Market
You'll be able to purchase Golds from other players on the Market. However, Horizon will only be adding an initial supply to the Market as each Gold becomes available in the game. This is because the only way Gold cards can be forged into existence is through players winning all three Conquest matches. For this reason, we needed to adhere to the scarcity model of Golds while ensuring players are able to easily trade them on the Market.
Skyweaver Market
The Skyweaver Market is a peer-to-peer market where players can trade and buy cards directly in-game. Here you'll be able to purchase Silver and Gold cards directly from other players. And, you'll be able to sell cards you own. It's an open player-driven market, which means the price of cards is not determined by Horizon, but by the players instead. You can learn all about the Skyweaver Market in this blog post.
📝 An additional fee will be applied upon checkout in-game on transactions completed in the Skyweaver Market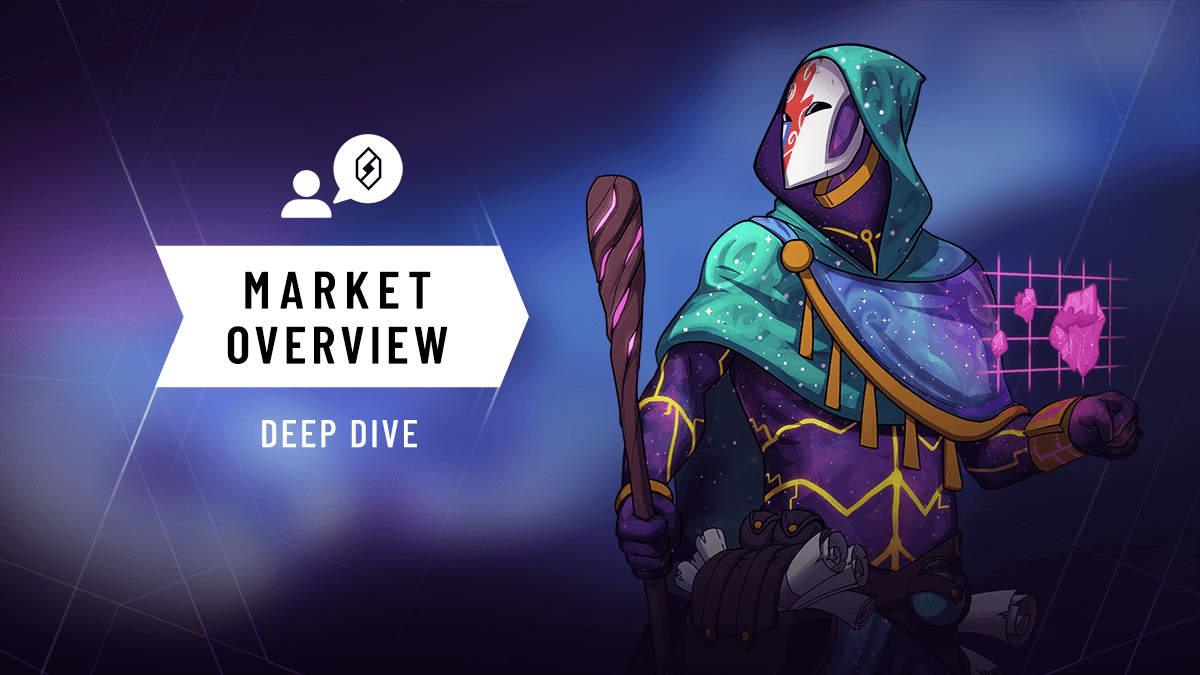 Why else is this special?
Unlike other item markets, your transactions will resolve almost instantly so there's no waiting involved. In addition to this, it also takes all the guesswork out of the equation. This is because the Skyweaver Market automatically provides the ideal price based on a fair and transparent formula. You don't have to take our word for it, ask any Ethereum enthusiast to confirm the code—that's the beauty of open source software!
Check out Nifyswap and learn more about how it works here.
Niftyswap, which powers the Skyweaver Market, is a modification of Uniswap 🦄 to support collectible items like Skyweaver Cards.

All of these incredible advancements that power the Skyweaver Market would not have been possible without the incredible Ethereum community.
Conquest
Enter with one life. Lose, and you're out. Win once or twice, and receive tradable Silver cards! Win three times, and receive a rare and tradable trophy Gold card!
Conquest is the next level of competition in Skyweaver: a single-elimination tournament-style PvP experience where you trade in 1 Silver card or 1.5 USDC to enter. If you lose, all you'll get is XP, but if you win, you earn prestige in Sky along with tradable rewards.
Note: Horizon does not resell the Silver cards players use to enter Conquest. Instead, the Silver cards are destroyed  (a.k.a. burned and cease to exist)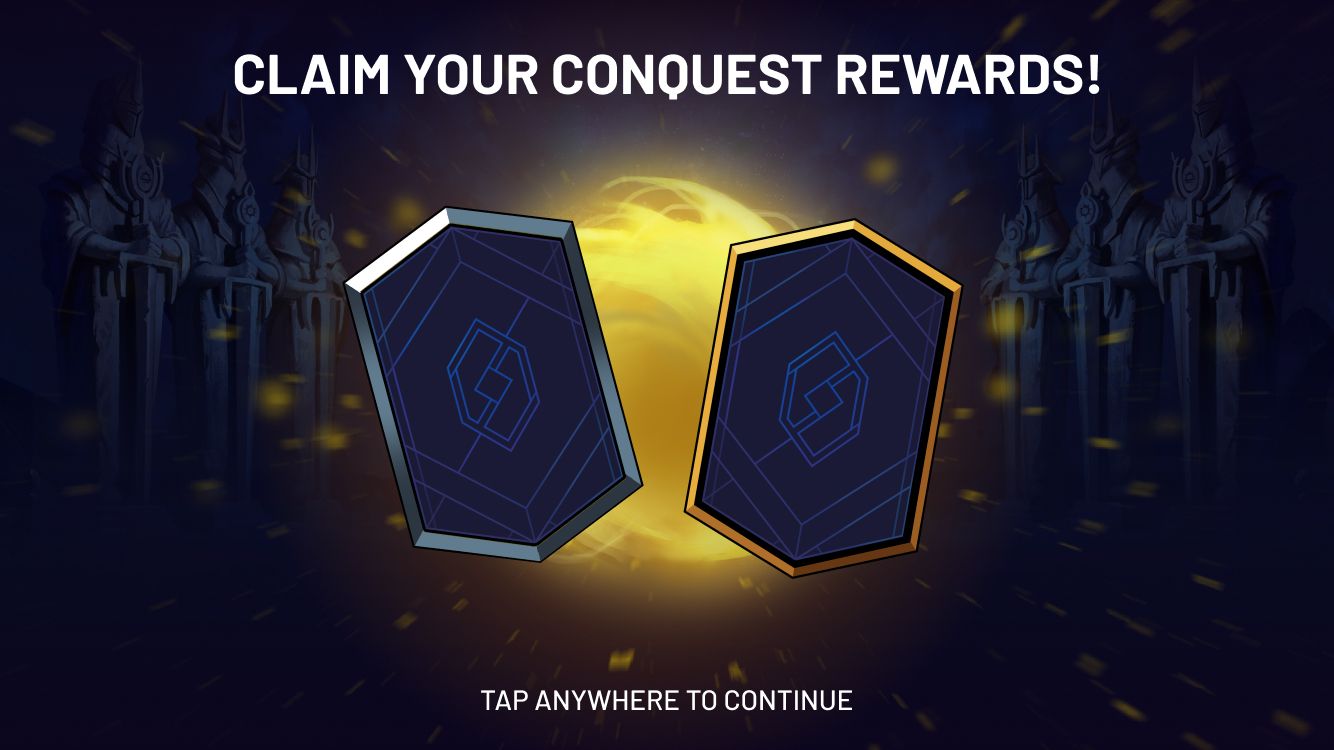 Conquest is a competitive game mode that's a core element to Skyweaver's economy. For a deep dive into Conquest, head over to this blog post.
XP - What is it Good for?

Unlocking Base cards and Heroes! You need to accumulate XP in order to unlock Base cards (the ones with the purple border), and to unlock all the different Heroes in the game. You'll be able to build your own decks with the cards you've unlocked in our intuitive deckbuilder and play Constructed matches against other players who have built their own powerful decks!

Weekly Ranked Rewards
A certain number of Silver cards and Conquest Tickets will be distributed on a weekly basis to the top ranking players. We call these Ranked Rewards. The higher on the leaderboard you are, the more rewards you'll receive! This system gives skilled players a chance to try out Conquest for free. To learn more about the progression/reward system check out this post.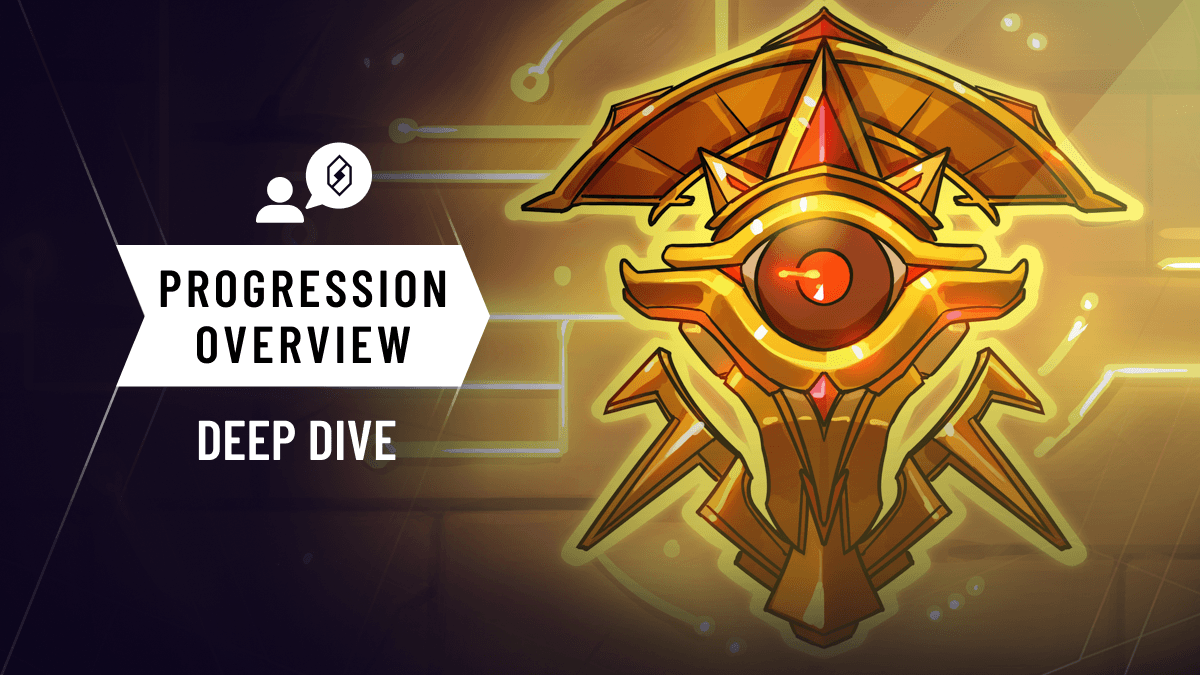 Join the Discussion! 🎙️
So what do you think? What do you like? What do you dislike? Where can we improve? We'd love to read your feedback so we can continue to craft this wonderful new dimension of player-owned game economies together 💜 Let us know your honest thoughts and opinions!
To chat with the rest of the community and the Horizon team, join our Discord server! Subscribe to our subreddit to share your ideas, and be sure to follow us on Twitter or Instagram! Also—we're on TikTok too!
Skyweaver is in Open Beta. You can play for free at play.skyweaver.net or download the game on Windows, Mac, Linux, IOS, and Android!

Recent Posts


Recent Posts