Open Beta starts February 8th! Soon we'll say goodbye to those little beta codes and hello to a lot of new Skyweavers! But what of the OGs you may ask? As you have all surprised us with your love and support to get us here, we thought it was only fitting to surprise you back 🧡 Thanks for playing.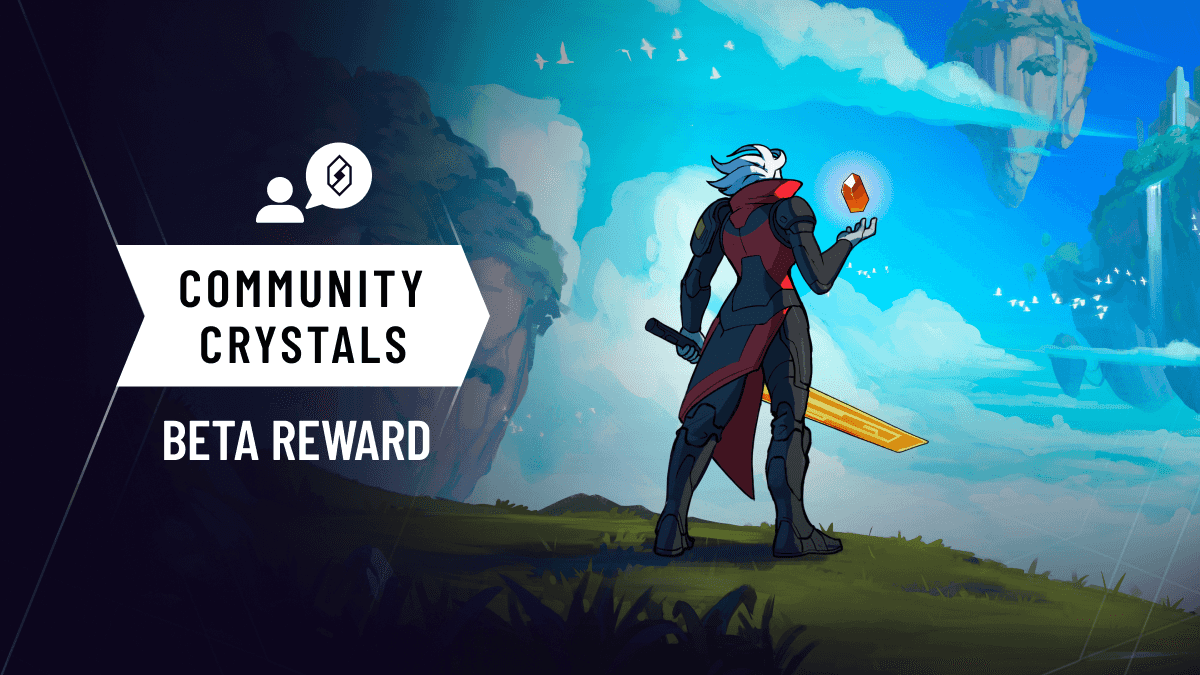 In November of last year, we released this post outlining the various item rewards community members would receive for their participation. However, we left out one important detail 🤭 Crystals! This is something we've been wanting to tell you all for a while, but we needed to keep it under wraps (so there's no cheating). We're just as excited to see what you end up doing with these Crystals as we are to reward them!
And in case you're wondering if you "did enough" to be eligible for one, as long as you created an account you will receive a Crystal 💜 *This includes players who have yet to migrate their old account prior to the big Sequence Wallet update. So without further ado, let's explore how to claim these Crystals and find out what they unlock for you in-game!
Community Crystals

Skyweaver Crystals will be given to EVERYONE who participated in the Private Beta, Final Test Phase, and/or Alpha way back in 2018 (wow we're old 😅). They'll also be given to players who reach level 5 during the Soft Launch. Crystals are game items that reflect how long a player's been part of Skyweaver's journey. In the coming weeks, these Crystals will be deposited directly into your Sequence Wallet—so no further action is necessary!
Note: Some players will need to migrate their old accounts before they can get their Crystals. This must be done before May 1st 2022 otherwise you will not receive a Crystal. If you haven't played Skyweaver since the Final Test Phase began in April, you will be one of these players and must login to save your spot. Those who migrate their account after Open Beta begins will receive their Crystals late (after the May 1st 2022 deadline).
What do Crystals do?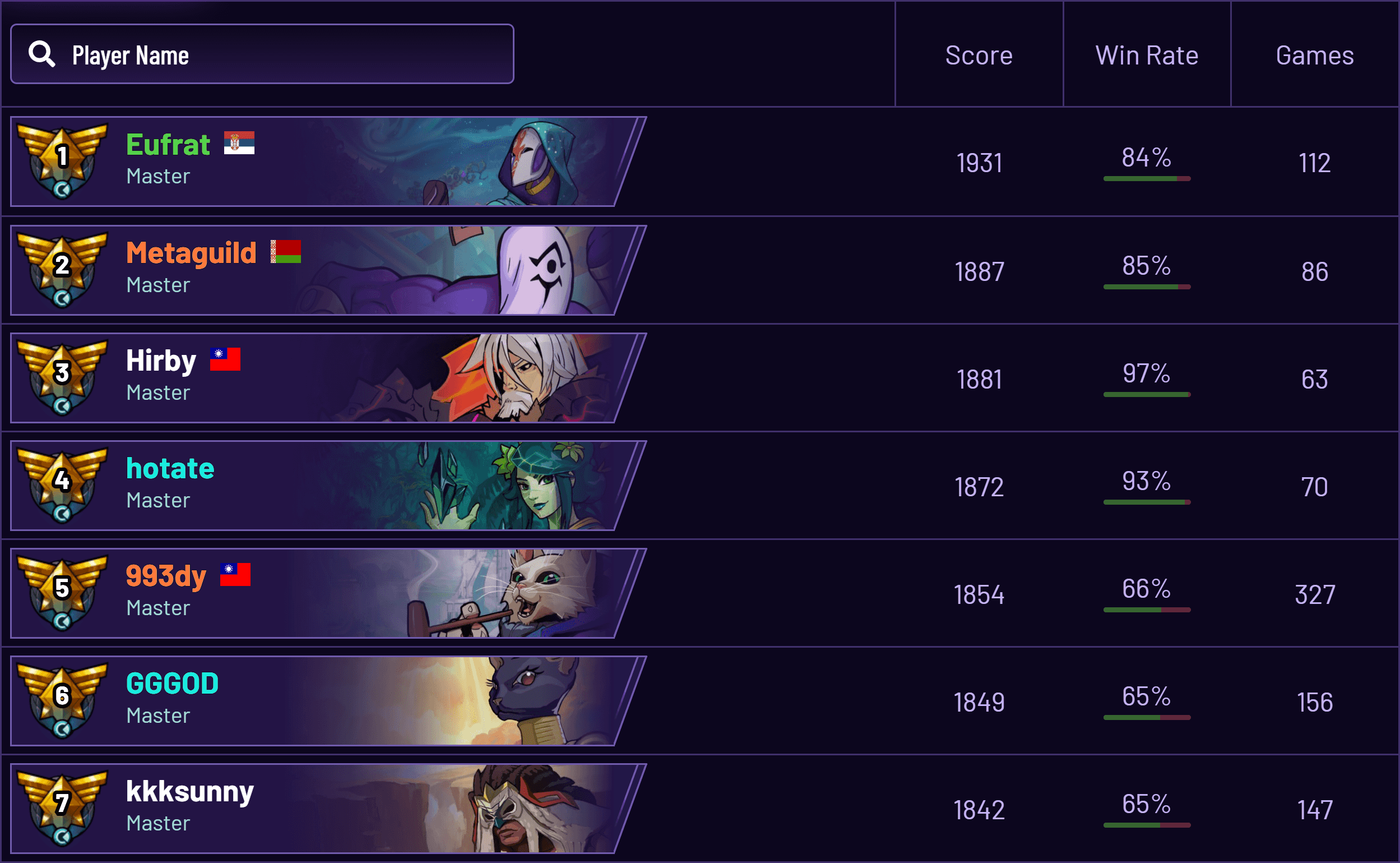 Skyweaver Crystals change the color of your username in-game! All you have to do is hold one in your Sequence Wallet for it to work! Depending on when you started playing Skyweaver, you will receive one of 3 different Crystals: Jade, Jasper, and Topaz. And now for a quick lore break to set the mood 📔
From nothingness came Light, and Sky was born,
Air followed, filling the empty world,
Earth rose up from below, giving Sky form,
Fire raged into being, and there was life,
Water surged into Sky, and there was peace,
Metal crystallized, bringing order and stability,
Finally, Mind was born, and Sky came alive with thought and meaning,
and through it all, Dark waited, knowing all would belong to it in the end.

Jade (Green) - Eligibility: Participated in the "Alpha" | Joined before March 21st 2020
Jasper (Orange) - Eligibility: Participated in the Private Beta/Final Test Phase | Joined between March 21st 2020 and November 24th 2021
Topaz (Teal) - Eligibility: Participate in the Soft Launch | Join between November 25th 2021 and February 7th 2022 and reach level 5
In addition, all players eligible for a Crystal will also receive two bonus Topaz Crystals to share with friends!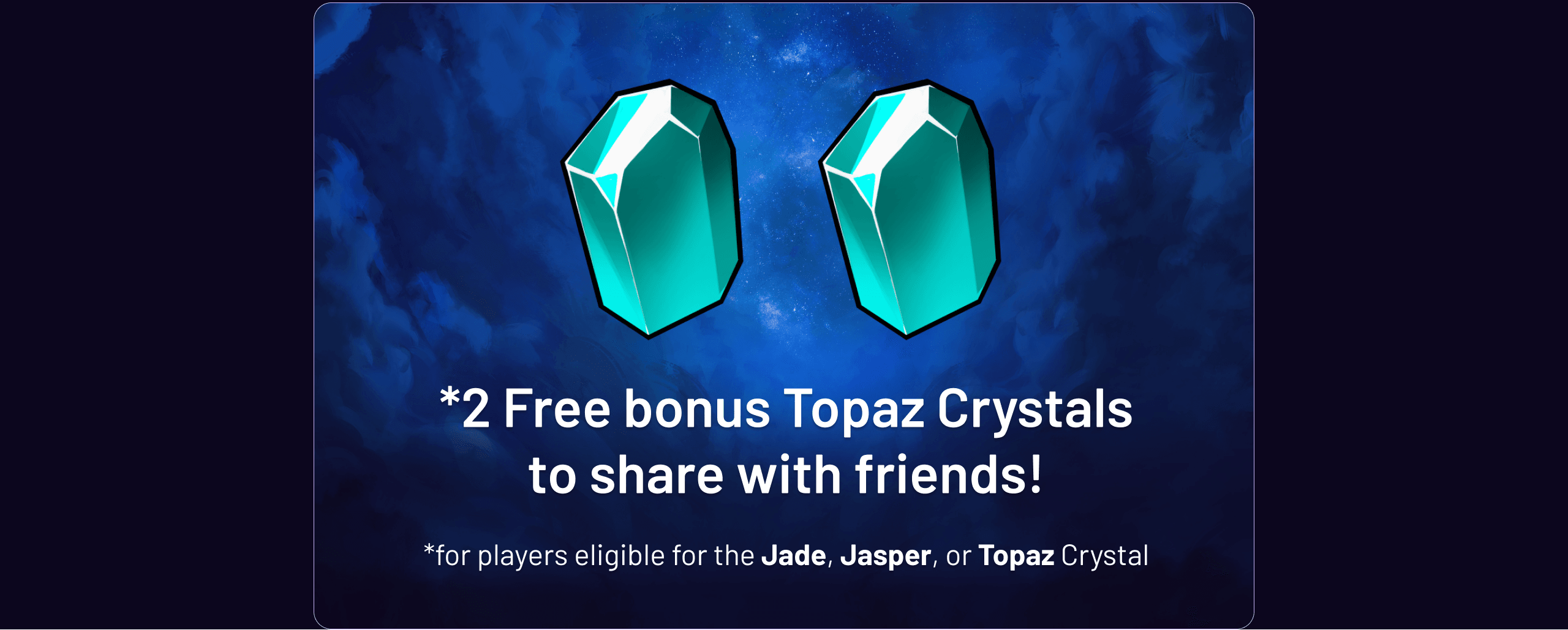 As you might have noticed, there are more Crystals than just these three—like Amethyst, Morganite and Amber.

Why the ?? instead of something a little more descriptive? That's because we'll have more info to share on these other Crystals in the future. For now, we want them to remain a mystery beyond Soft Launch. We'll provide a hint for one though: Morganite will be reserved for those who prove their prowess in events recognized by Horizon… that may have been more than "a hint" 😂
How do I check if I'm eligible?
Just visit your profile page by tapping on your SkyTag at the top of the menu. Then tap on "STATS" and scroll down! month / day / year
Will I receive more than one Crystal?
Yes! If you're eligible for any of the Jade, Jasper or Topaz Crystals—meaning you played before Open Beta begins—you will receive two bonus Topaz Crystals. However, you will only receive one of the three initial Crystals (Jade, Jasper, and Topaz) based on when you first played.
So if you first played before March 21st 2020, you will be eligible for the Jade Crystal (AKA the "Alpha" Crystal) but not the two others. Similarly, if the first time you played was between March 21st 2020 and November 24th 2021, you'll only be eligible for the Jasper Crystal (AKA the Private Beta/Final Test Phase Crystal).
Remember: For both Jade and Jasper Crystals, if you are eligible for one of them, you will also get the two bonus Topaz Crystals.
If you just started playing during the Soft Launch (November 25th 2021 onwards, before Open Beta), then you'll receive a total of 3 Topaz Crystals.
When can I expect my Crystal?
In the coming weeks! We'll let you know on Discord and Twitter once they become available. The Crystals will appear in your Sequence Wallet.

Can I buy and sell Crystals in-game?
Crystals are free game items distributed to players at no cost. At this time, players will not be able to buy and sell Crystals in-game. You do own these crystal as your property though, so you can send them to whoever you want.
Will you distribute more Crystals?
Once the Jade and Jasper Crystals are distributed to eligible players, Horizon will never be able to mint more again. The other Crystals however will continue to remain mintable. We will communicate in advance if this will change and if new Crystals are ever added to the game.
What happens if I own multiple Crystals?
There will not be an interface in-game to toggle between Crystal preferences. Instead, a player that owns multiple Crystals will have their username color determined by this priority:

For example, if you own a Jade AND Jasper Crystal, your username color will be green—not orange (since Jade takes priority over Jasper).
UPDATE 22/04/22: The blue Sapphire crystal will come before Jade.
---
We hope you enjoy this exclusive gift 🤗 Thank you again for your continued support by playing our game during these early phases in development and helping us make Skyweaver the best game it can be! To learn more about the issuance of other game items including Silver and Gold cards, check out this post detailing the economy of Skyweaver!
Join The Discussion! 🎙️
To chat with the rest of the Horizon team and our community, join our Discord server! Subscribe to our subreddit to share your ideas, and follow the Skyweaver account on Twitter or Instagram if you just want to say hey!
If you haven't already, sign up to become a Skyweaver today to get invited to play our Soft Launch and let us know what you think of the game!

Recent Posts


Recent Posts