Meet the Skyweaver community managers and check out the 2021 Livestream Schedule!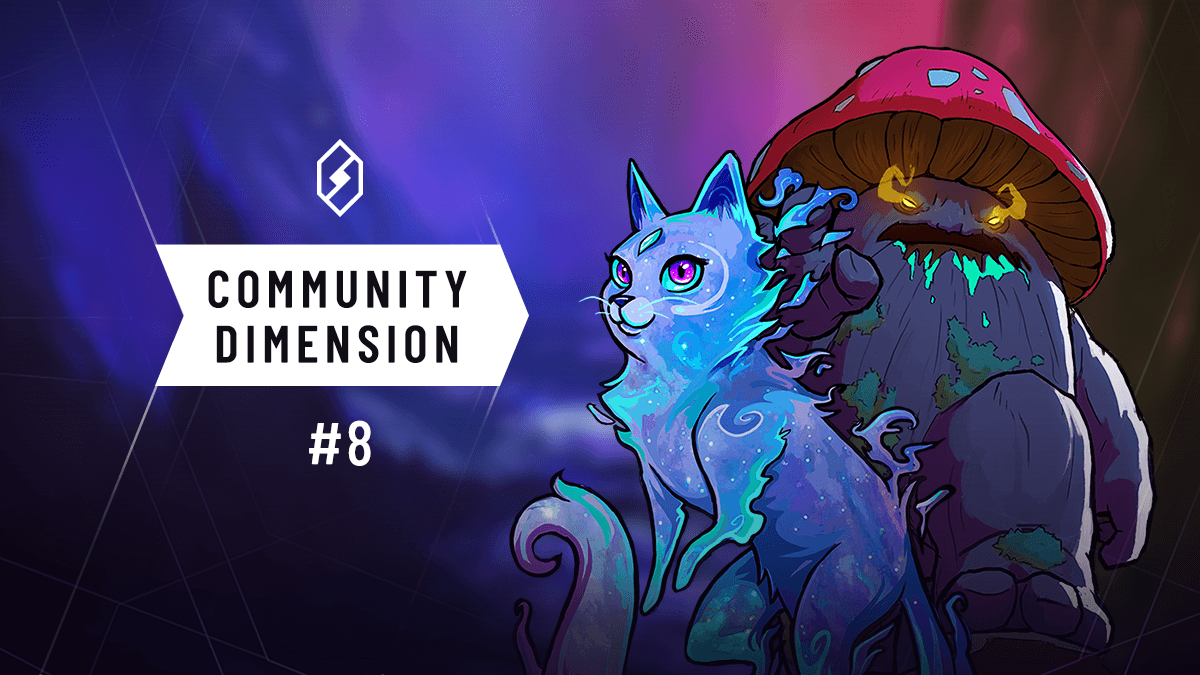 Our heroic Community Managers are always on the frontlines of the battlefield. They're showing you the latest game updates, tending to bugs, streaming Discovery & Constructed, reacting to your decks and explaining the basics to help you transition in becoming a Skyweaver. They're always there for you - whether it's to help you solve problems, or give you the best tips and tricks in Sky!
Let's show them a little love, shall we?
Marcelo Suplicy (Doom Shroom; sporekin) - The Guardian of the Shroom Family and Fulltime Community Bard
Marcelo is a long-time footsoldier in this enormous war called gaming. A frustrated astronomer, weekend historian and all-around geek, Marcelo is there to help you with all your Skyweaver needs and just share laughs with you if you will. His favourite game is TES III: Morrowind. He also loves horror literature and D&D. With epic Dungeon Master capabilities, years of wisdom and a calming voice that will steer you in the right direction, Marcelo is your go-to Community Bard in the dimension of Sky.
Ashavari Joshi (Starfield; starfieldae) - The Songstress of Dreamfield, Keeper of the (Beta) Keys and Fulltime Community Warrior
Ashavari has an upbeat and positive voice that reverberates through the Isle of Sky. A singer-songwriter and jack-of-many-trades, Ashavari is the cool cat that has your back, no matter what level you're at! Her favourite game is Alice: Madness Returns. Ashavari also loves to dance, watch anime and cosplay! With her fiery spirit and caring nature, you know you're in the right hands when you turn to Ashavari for all your Skyweaver needs!
Join our Community Livestreams every week!
Constructed Mayhem - 12:00 ET |  9:00 PT | 18:00 CET
Every Tuesday on Twitch
Tune in for Constructed gameplay with Ashavari on Twitch. Ashavari reacts to community-built decks on this stream, trying out new synergies and tactics. Submit your deck on Discord in the #beta-decks-caring-is-sharing channel. Be sure to type "Stream Submission" before inputting the deck string, to indicate that it is a submission for the stream.
Skyweaver 101 - 10:30 ET | 7:30 PT | 16:00 CET
Every Wednesday on Facebook & YouTube
Learn the basics of the game on Facebook and YouTube every Wednesday with Ashavari. This stream occurs at the same time, so tune in with your preferred platform. Get accustomed to the meta and ask any questions you may have.
Patch Notes - 17:00 ET | 14:00 PT | 23:00 CET
Every other Wednesday on Twitch
Tune in every other Wednesday to see what's new in Sky. Join Marcelo or Ashavari on Twitch as they go through all the new features, bug fixes and major improvements of the game. This stream features our game designer, Coulter Baker, walking you through the card balance changes.
Discovery & AMA - 17:30 ET | 14:30 PT | 23:30 CET
Every Friday on Twitch
Join Marcelo on Twitch for some Discovery plays. Discover new tactics and synergies with random cards in your deck, or a random Prism if you like the spontaneity! This is a stream where you can ask Marcelo any questions you have about the game and get a first-look at new features after a game update.
Have more questions?
Join our Discord server and ask the community.
Follow us on Instagram, Twitter, Facebook, YouTube and Twitch to stay updated.

Recent Posts


Recent Posts