Hey everyone! Now that the date of our Soft Launch has been announced, let's go over what you need to know about our big switch to mainnet!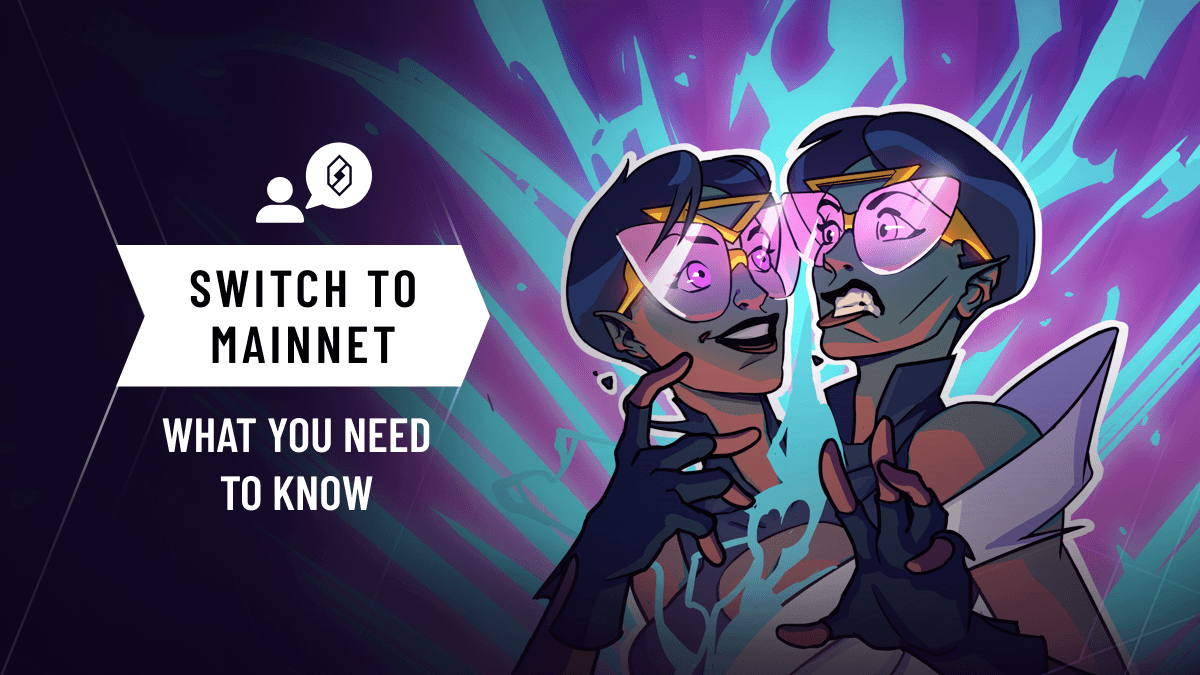 Your progression in the game will be completely reset
When we switch to mainnet, we will do a complete reset of all your in-game progression, Silver cards, Gold cards, in-game currency, levels and ranks. At mainnet, everyone will start at ZERO and compete for the top leaderboard spots from scratch!
If you were eligible for Gold cards or a Conquest entry ticket raffle, please note that a snapshot of your rank and Gold cards won will be taken prior to the reset.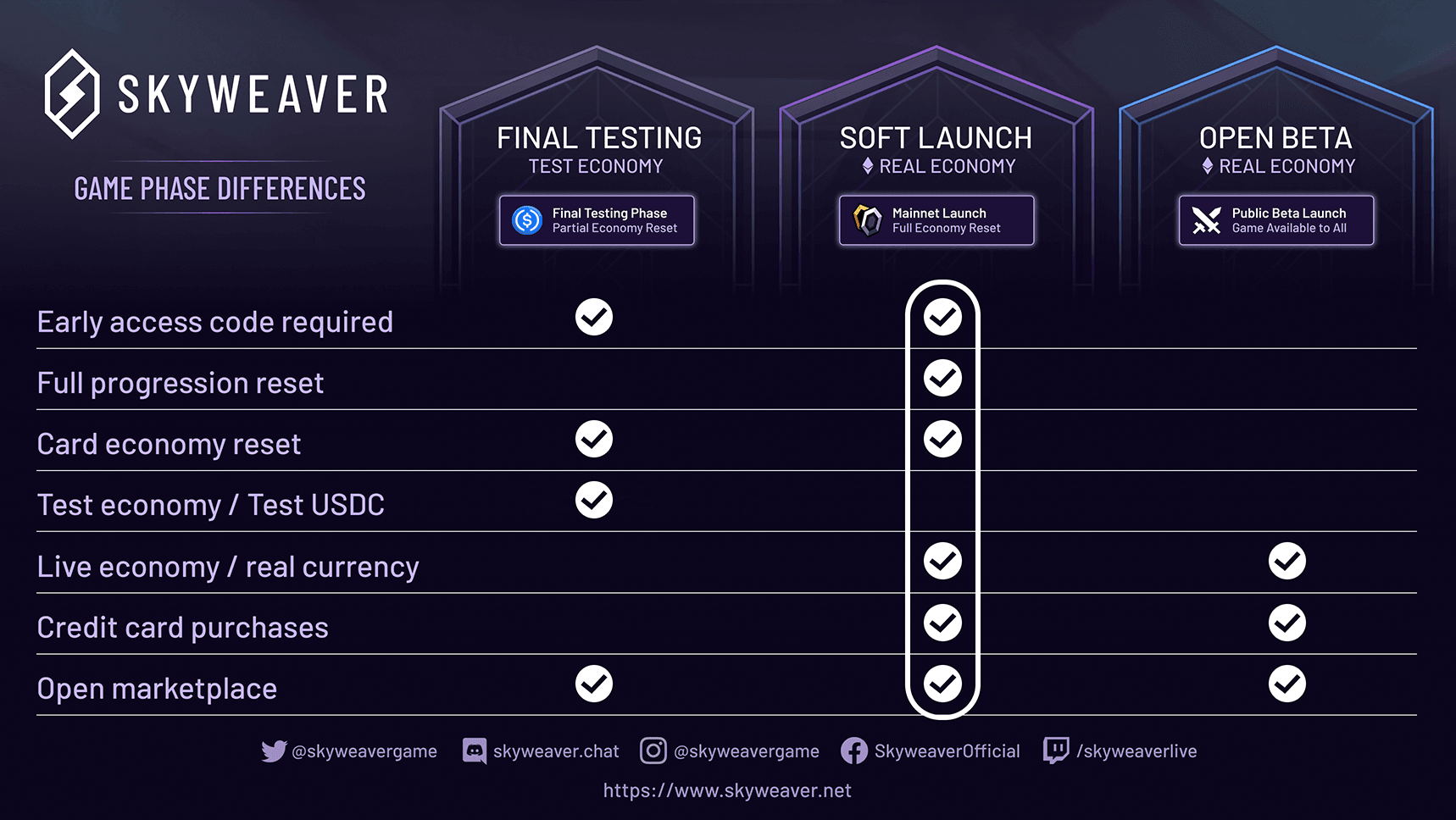 Gold Cards will no longer be given out as Season rewards. Season 0 is your last chance - and it's almost done!
Ranking high in Season 0 is your ONLY chance to claim your special edition Gold cards! Only 800 Gold Starfields and Gold Doom Shrooms will ever exist! The time is NOW because Season 0 ends at Soft Launch. These limited edition cards can only be won by ranking in the Top 500 leaderboards for each Discovery and Constructed right before we switch to mainnet. Play now to secure your spot!
Conquest game victories will mint you real NFT cards!
Playing Conquest and winning matches will mint real NFT cards to reward your mastery! Win 1 game for 1 Silver card; win 2 games for 2 Silver cards; win 3 games in a row, and you'll receive 1 limited edition Gold card, as well as 1 Silver card. Read more about Conquest in our blog post.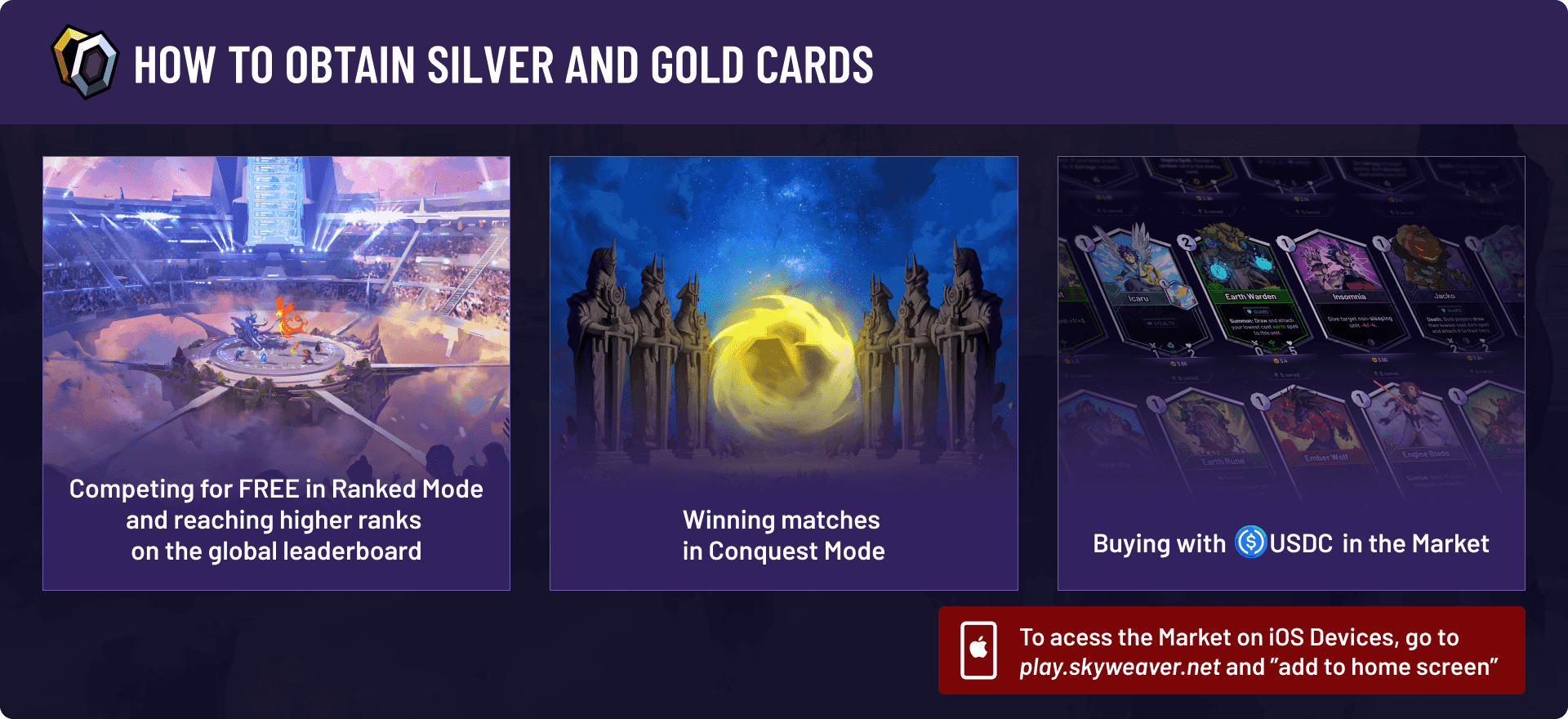 To mint a Gold card, you need to win 3 matches in a row in Conquest.
You still need a Beta Access Code to enter the game!
Soft Launch is NOT Open Beta. Open Beta is when Skyweaver will no longer require a code to play. Soft launch is still part of our closed beta phase, but with everything live on mainnet! If you want access to the game, join our waiting list at https://skyweaver.net/signup/
We will use USDC to facilitate purchases
We have decided to use USDC instead of DAI as our stable coin to facilitate buying and selling on the Skyweaver Market. This means your test DAI (tDAI) will no longer be available to use. Your accounts will also not come with a set amount of USDC upon account creation like they have in the past.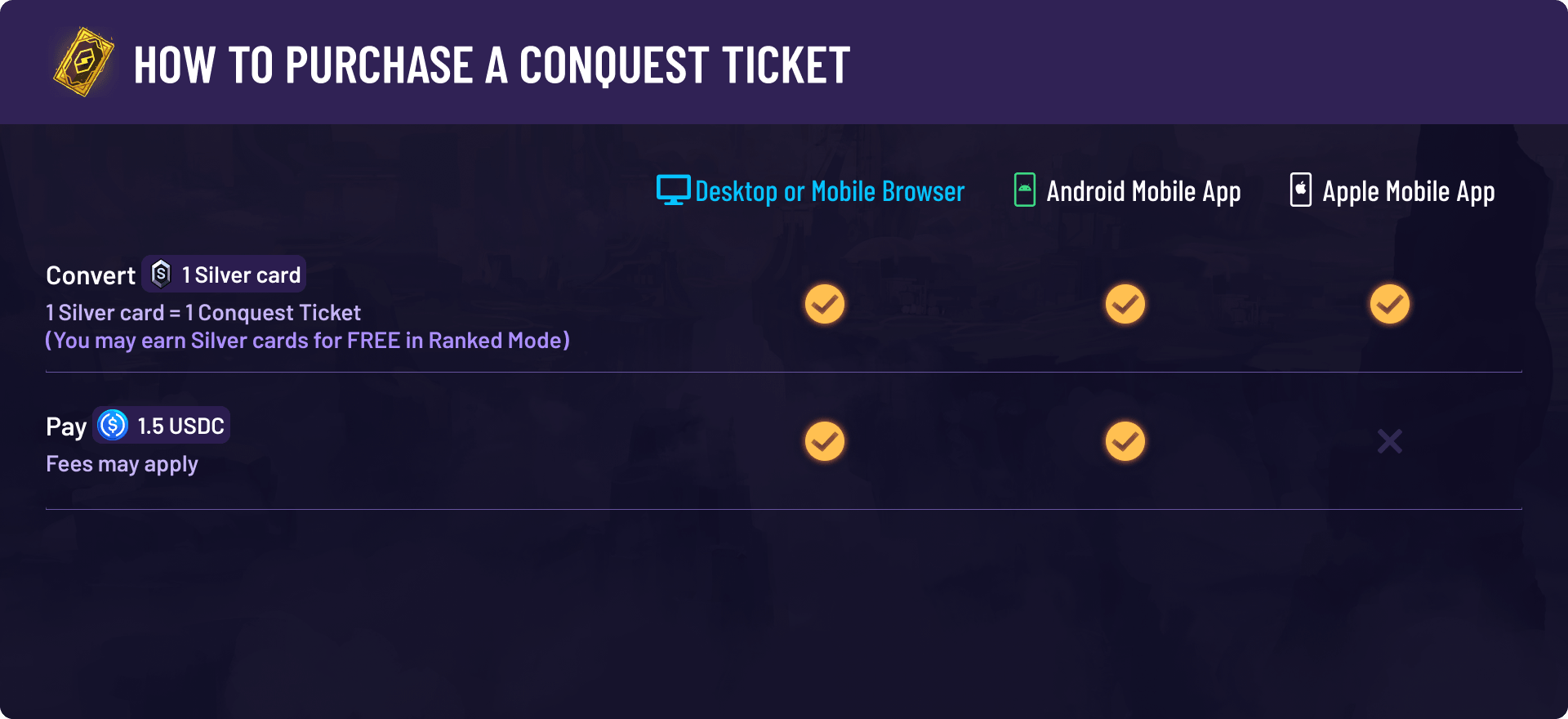 USDC will have to be purchased through our Sequence Wallet app or acquired elsewhere. Please refer to our FAQ in our Support page for more details. Of course, you can also use Silver cards to purchase Conquest tickets in-game as well.
You will be able to use debit and credit card to purchase USDC in order to facilitate card transactions such as buying and selling
We will be using third party payment providers to help facilitate these transactions. Since you will be making real transactions that are live on mainnet, we have come up with a comprehensive list of FAQ about transacting!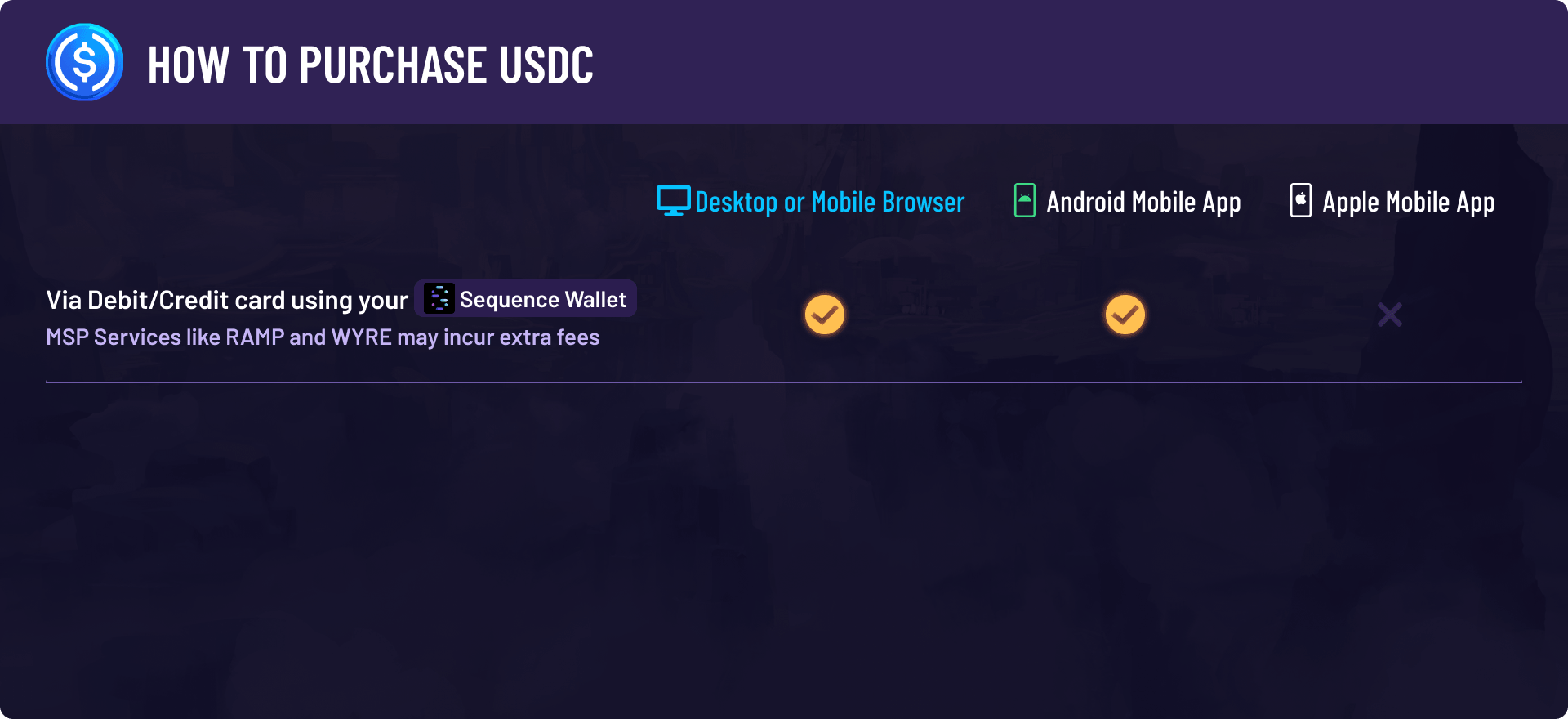 Note that you will have to check with the payment providers we use to see if your card or preferred method of payment is supported. Please view the articles in our Support Hub to address any questions you may have.
You can access the Skyweaver Market to buy and sell!
Access the Skyweaver Market from your mobile or desktop to buy, sell and trade Silver and Gold cards! You can make purchases directly from the app using your Sequence Wallet. Our third-party payment providers allow you to purchase USDC directly from the wallet app. You can also transfer USDC from other wallets to your Sequence Wallet address. Having USDC preloaded in your wallet allows you to easily transact in the Skyweaver Market.
Please note that iOS users will not be able to access the Skyweaver Market. Players that use iOS devices will have to exit the app and launch play.skyweaver.net from a browser to access the market and trade.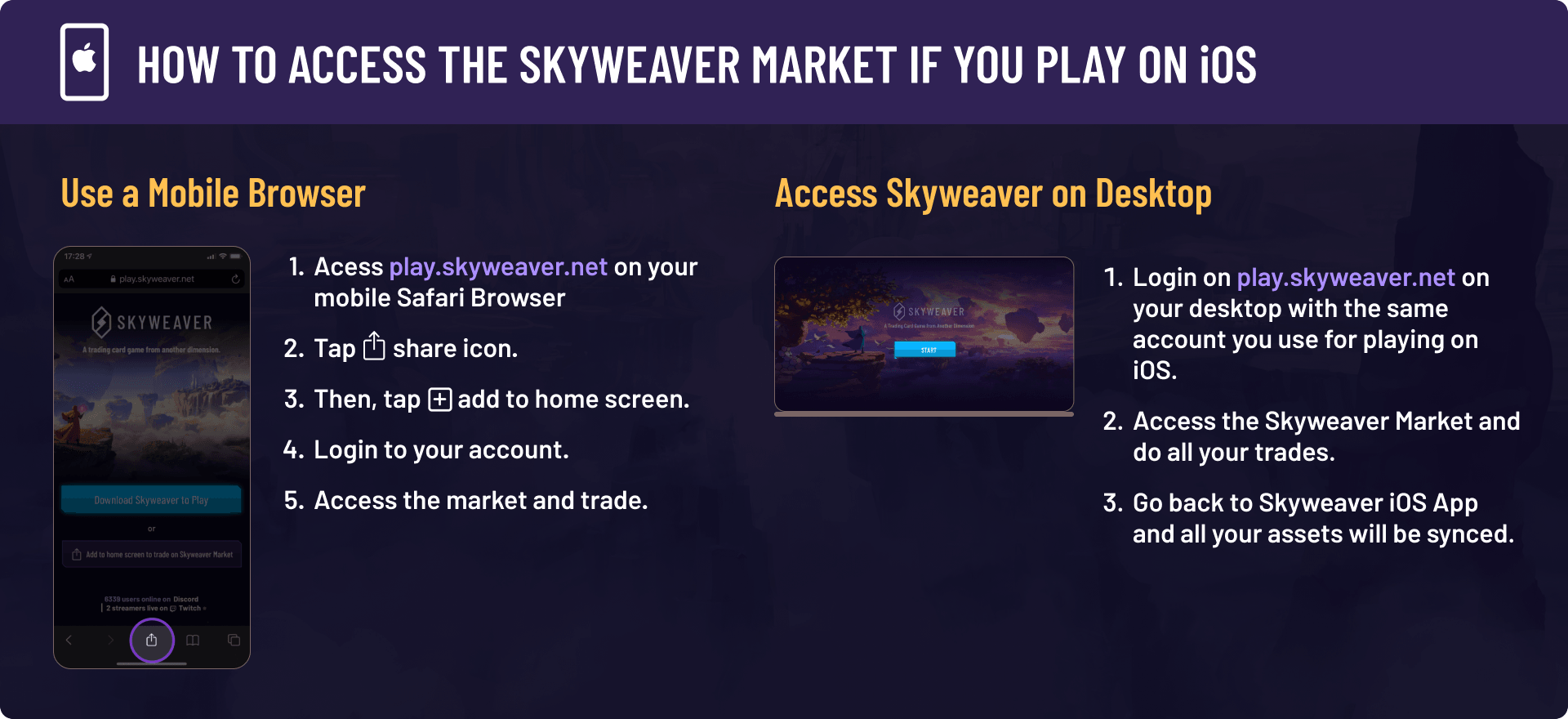 You can purchase Conquest Tickets on mobile and desktop
If you want to buy a Conquest entry ticket, there are 3 ways to get your tickets:
1) Pay with 1.5 USDC. Use the Sequence Wallet to buy USDC via our third-party payment providers. If you already have your Sequence Wallet pre-loaded with USDC, you can use your existing balance to make your purchase
2) Trade 1 Silver Card
3) Use Google Pay or Apple Pay (a.k.a. In-App Purchases) to buy a Conquest entry ticket directly *NOT AVAILABLE YET
Please note that In-App Purchases (IAP) on mobile won't be available at Soft Launch on Nov. 25th. You will not be able to use Google Pay or Apple Pay from within the Skyweaver app to make direct purchases on mobile when we enter Soft Launch. We will have more information to share about this at a later time. For the time being, please acquire USDC first if you wish to purchase Conquest tickets from within the app itself.
Our peer-to-peer economy will be LIVE!
Our Skyweaver Market is based on Niftyswap, meaning that it uses an automated liquidity protocol to determine the price of cards. With this automated liquidity protocol, you are not buying cards directly from Horizon Blockchain Games, nor from other players individually. You are buying cards from the Skyweaver Market that will automatically determine card prices.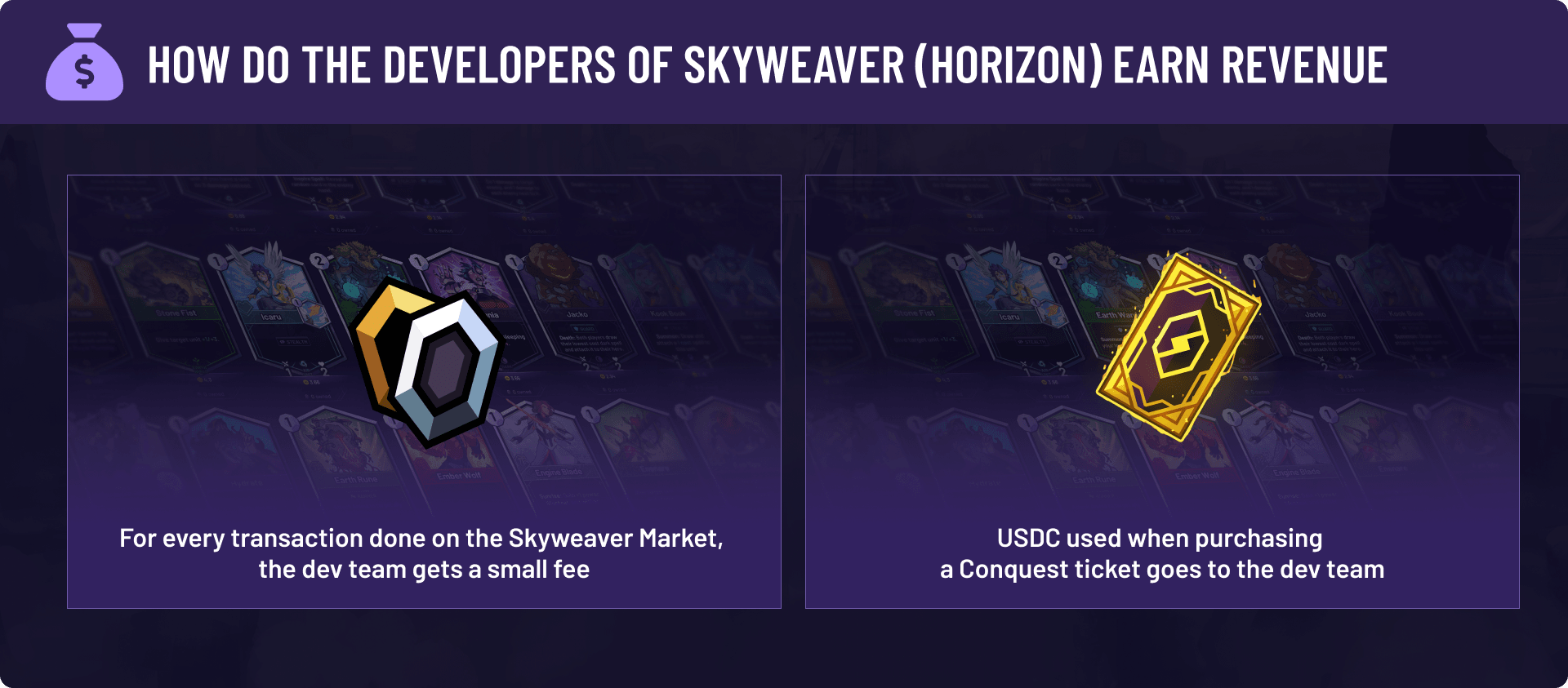 Mold and shape the economy through gameplay!
Our player-owned economy means that you get to decide how many Skyweaver cards exist, and there are no limits on the ways you can trade. Your contributions will directly impact the Skyweaver economy in this new dimension of gaming. Truly owning your game items means that you can trade, sell, buy, gift and even destroy your items anytime you want. There are limitless possibilities in the Skyweaver economy.
Skyweaver allows you to have true ownership of your cards, and our unprecedented rewards system gives skilled players awesome incentives. Join Sky and get early access by signing up: at https://www.skyweaver.net/signup/

Recent Posts


Recent Posts