State of the Game - August 2020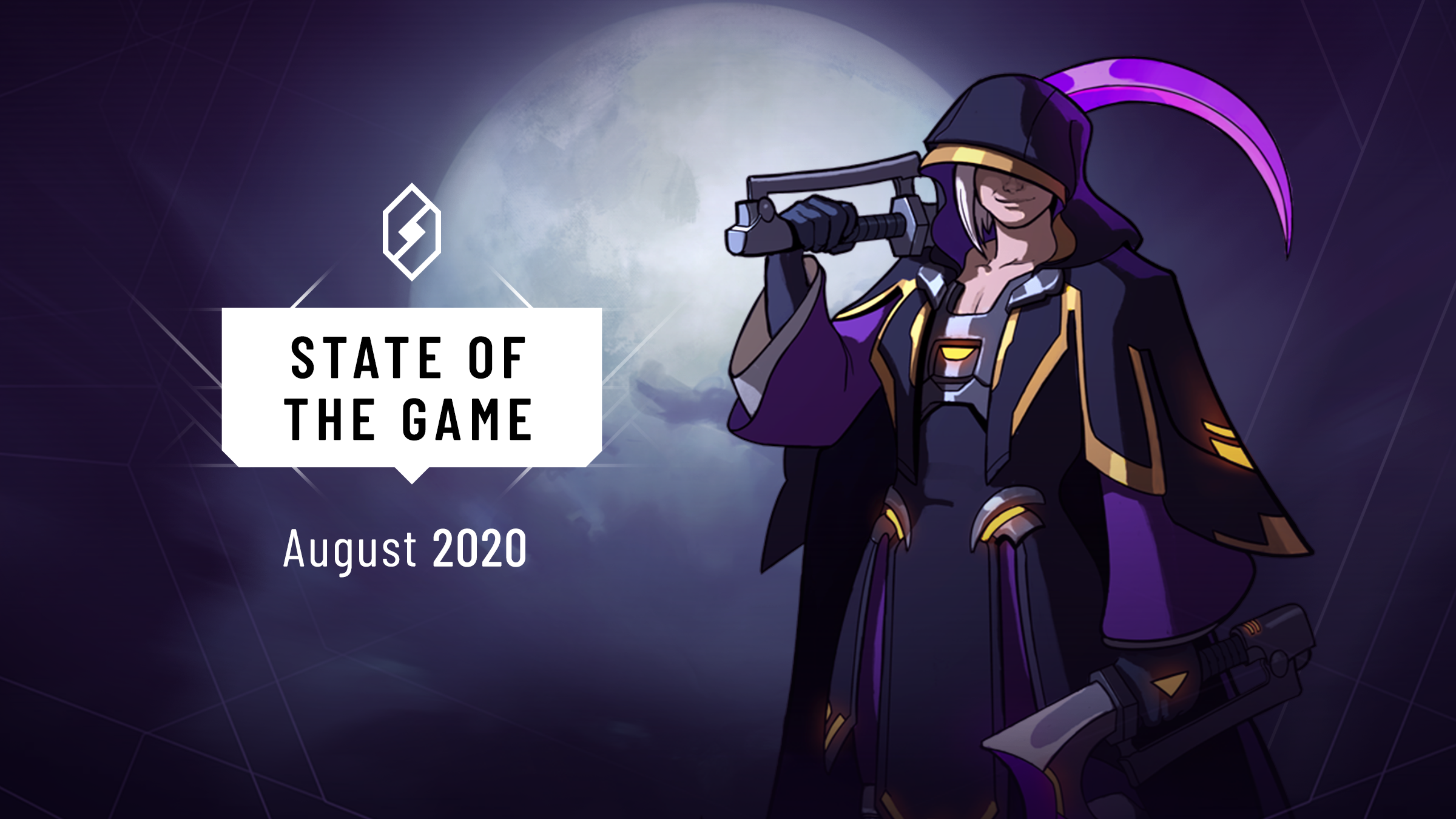 Hello Weavers!
Over one year has passed since the start of Private Beta, and it's been quite a journey! From our marketplace, to new in-game tutorials, brand new animations, our down-to-the-metal Ethereum blockchain stack that powers our cards, and much more—there's been a ton of progress in SkyWeaver's development. Thanks to all of your feedback, ideas and suggestions, SkyWeaver has shaped up to be what it is today. So, thank you all for that. We couldn't have done it without you!
We've connected with so many Weavers from around the world joining our community, sharing their videos, organizing their own tournaments, and streaming the game, and it's been humbling to see.
What's Coming
We know many of you are eager for Open Beta to launch, and we are too! We're super excited to release the game to the world. Before we get there, there are two brand new features our team is finalizing based on feedback from our Private Beta testing period. These two features are our new Smart Wallet to enhance player security and enable account recovery, and Conquest, a tournament game mode where players can win trophy Gold cards! With these two new features, we have some phases to go through that we'll explain.
We've created the roadmap below so you know what's happening in terms of phases and resets before Open Beta: (tap or click the image to enlarge)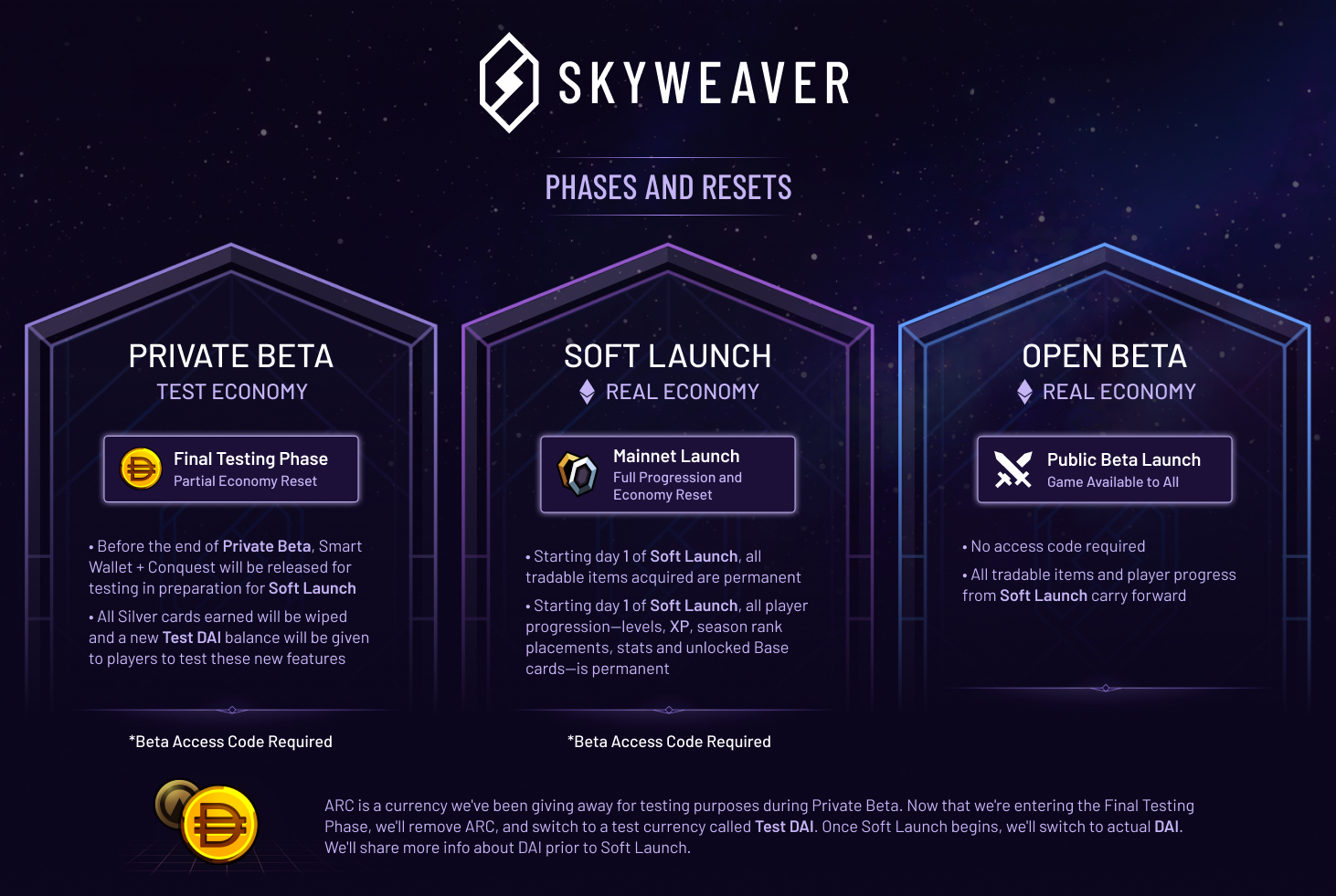 We hope this visual clears up some questions you may have had regarding the transition to Open Beta. As always, please don't hesitate to ping us on Discord or Twitter. That's what we're here for!
The first upcoming phase in our Private Beta is when we release the first versions of our new Smart Wallet and Conquest mode. Our team is finishing up development of these features as we speak, and we're excited for you to test them and tell us what you think once they're released.
Both the Smart Wallet and Conquest are essential before we move onto the next phase: our Soft Launch. Soft Launch is when we'll move SkyWeaver from the Ethereum testnet to mainnet. In other words, our economy will become live and real when it moves to the Ethereum blockchain's main network. From this point onward, all tradable items you acquire or earn will become yours forever—unless you decide to sell or trade them. We're excited to welcome you to a community-driven Play-to-Own economy! Not only will you keep all your tradable items, but you'll also keep your progression. Starting day one of Soft Launch, there will be no more resets, ever!
Soft Launch serves to test our core game loop and economy to ensure SkyWeaver provides the best player experience possible. We'll release a more detailed blog post about Soft Launch to answer all your questions in the near future!

It's important to note that new players will still need a beta code to access the Soft Launch. We are doing this to support a stable ramp up of the economy and ensure our servers can handle the influx of users we'll be inviting. So if you've already signed up to the Beta waitlist, you'll get your access code to Soft Launch. If you want to be invited into Soft Launch, be sure to sign up to the waitlist.
Towards the end of the Soft Launch phase, we'll be able to determine when Open Beta will begin based on the feedback that we receive during this period.
We're so grateful for all the support you've given us over the past year. We couldn't have achieved what we've achieved without you. After all, we're making this game for you, our players.
Marcelo and Ashavari from our community team stream every week on Twitch where they're happy to answer your questions. You can also come chat with our team on Discord.
Thank you SkyWeaver, and see you in the game!
The Horizon Games team.

Recent Posts


Recent Posts