Skyweaver leverages blockchain technology to give players complete control over their items and coins. With all this power comes increased responsibility, and in some scenarios, increased complexity—particularly when it comes to payments within Skyweaver. But don't worry! We're here to help. 💙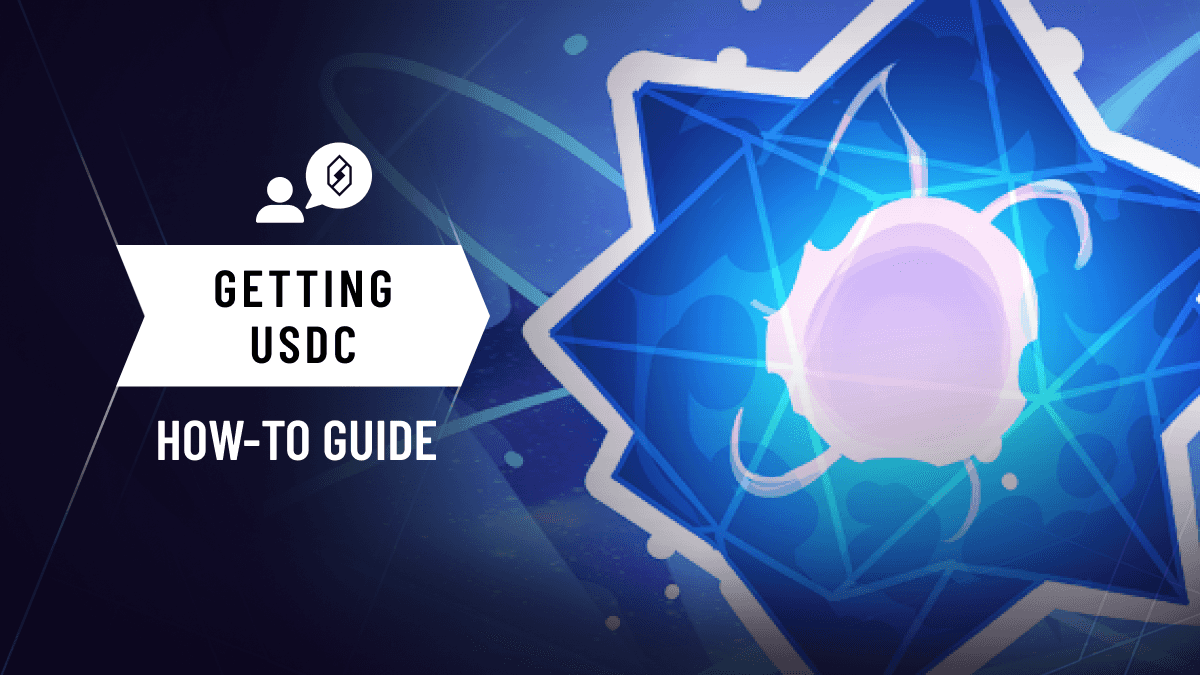 Skyweaver uses a stable coin, on the Polygon network, called USDC to facilitate purchases in-game. You can read more about USDC and how the Skyweaver Market works in this blogpost. In this blogpost, we provided some details about which devices can purchase USDC directly in-game using third party payment providers. Even if you're completely new to cryptocurrency and blockchain, we've added the option to conveniently "Add Funds" using a credit or debit card. Plus, we plan to support IAPs (a.k.a. Apple and Google In-App Purchases) in the future, to make this process even easier!

Tapping the "Add Funds" button will open your Sequence Wallet where you can select a payment provider. You can also access this feature directly from the dashboard (main page) of your Sequence Wallet.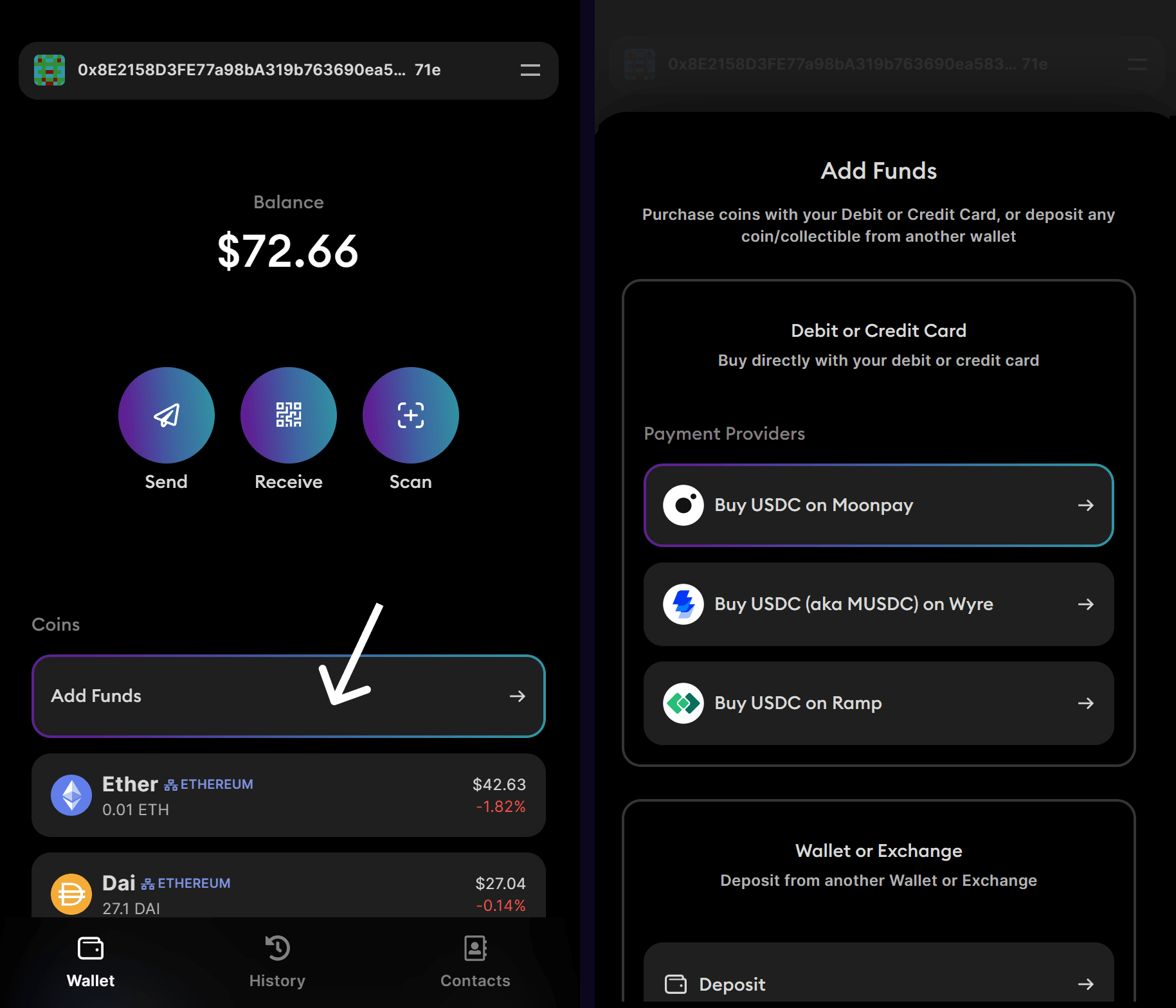 Note that you will have to check with the payment providers we use to see if your card or preferred payment method is supported. Currently, we support MoonPay, Wyre and Ramp. Please view the articles in our Support Hub to address any questions you may have.
What if the payment providers in the Sequence Wallet do not support my preferred payment method?
You always have the option of using any payment provider of your choice— even though it is not directly supported in the Sequence Wallet. You can use any cryptocurrency exchange platform of your choice. KuCoin is one example that lets you buy, sell, and store a wide range of cryptocurrencies. It has a website and mobile app. Similar to MoonPay, you can buy cryptocurrency using your credit/debit card and even via bank transfers. You can check to see if your country is supported here.
Generally, it's easier to do a search online and find a cryptocurrency exchange platform that operates locally. If you're in Canada, Newton, Shakepay, or BitBuy are just a few examples of exchanges operated locally. Keep reading to learn how to withdraw tokens from an exchange to the Sequence Wallet.

Keep in mind that third party exchanges often require identity verification and can take some time to set up. Oftentimes, using a local exchange will make this process easier. Please give yourself a few hours, so that you don't feel rushed. Skyweaver will be ready for you when you return!
If you're experienced with crypto, or if you already own some tokens, we've provided a small Q&A below to get you up to speed on how to load up your Sequence Wallet and start spending USDC in Skyweaver.
What is Polygon?
You might have read in our Soft Launch announcement that we're using the Polygon network. Polygon is what's called an EVM-compatible sidechain that is connected to the Ethereum network. Every Ethereum wallet address can be used as a Polygon address. However, assets need to be "bridged" (moved) from network to network in order for them to show up where you want them. In the Sequence Wallet, this is handled automatically. For third party wallets like MetaMask, networks need to be manually switched.
For MetaMask users: If you're getting errors, try switching the RPC URL to: https://polygon-mainnet.infura.io/v3/0ebf4dd05d6740f482938b8a80860d13
How do I get my USDC to show up in Skyweaver?
If you own USDC on Polygon already, you can simply send it over to your Sequence Wallet address! The gas fees incurred for this transaction will be extremely low. This is one reason why we chose Polygon as our network for Skyweaver!
If you own USDC on another network like Ethereum, you can use the bridge feature directly in the Sequence Wallet to bring your USDC from Ethereum over to Polygon. Note that Ethereum mainnet gas fees are quite expensive. We suggest moving funds when gas fees are lower. You can monitor gas prices anytime using the Etherscan gastracker.

Keep in mind that you will need the network's native currency (ETH or Polygon/MATIC) to conduct transactions on these networks. This is how users pay for gas using regular wallets. If you're using the Sequence Wallet, however, you may pay for the gas fee in alternate tokens such as USDC! And, once the USDC is on Polygon and you're using the Sequence Wallet, all Skyweaver-related transactions will be free during Soft Launch. 🙂
Can I withdraw tokens from an exchange to the Sequence Wallet?
Check out this article we made if you're using Binance exchange.
Many CEXs (centralized exchanges) offer the withdrawal of Polygon ($MATIC) or USDC directly on the Polygon network. Users can send their MATIC or USDC to their Sequence Wallet. If you happen to be using KuCoin, you can reference this guide to learn how to transfer MATIC to the Polygon network.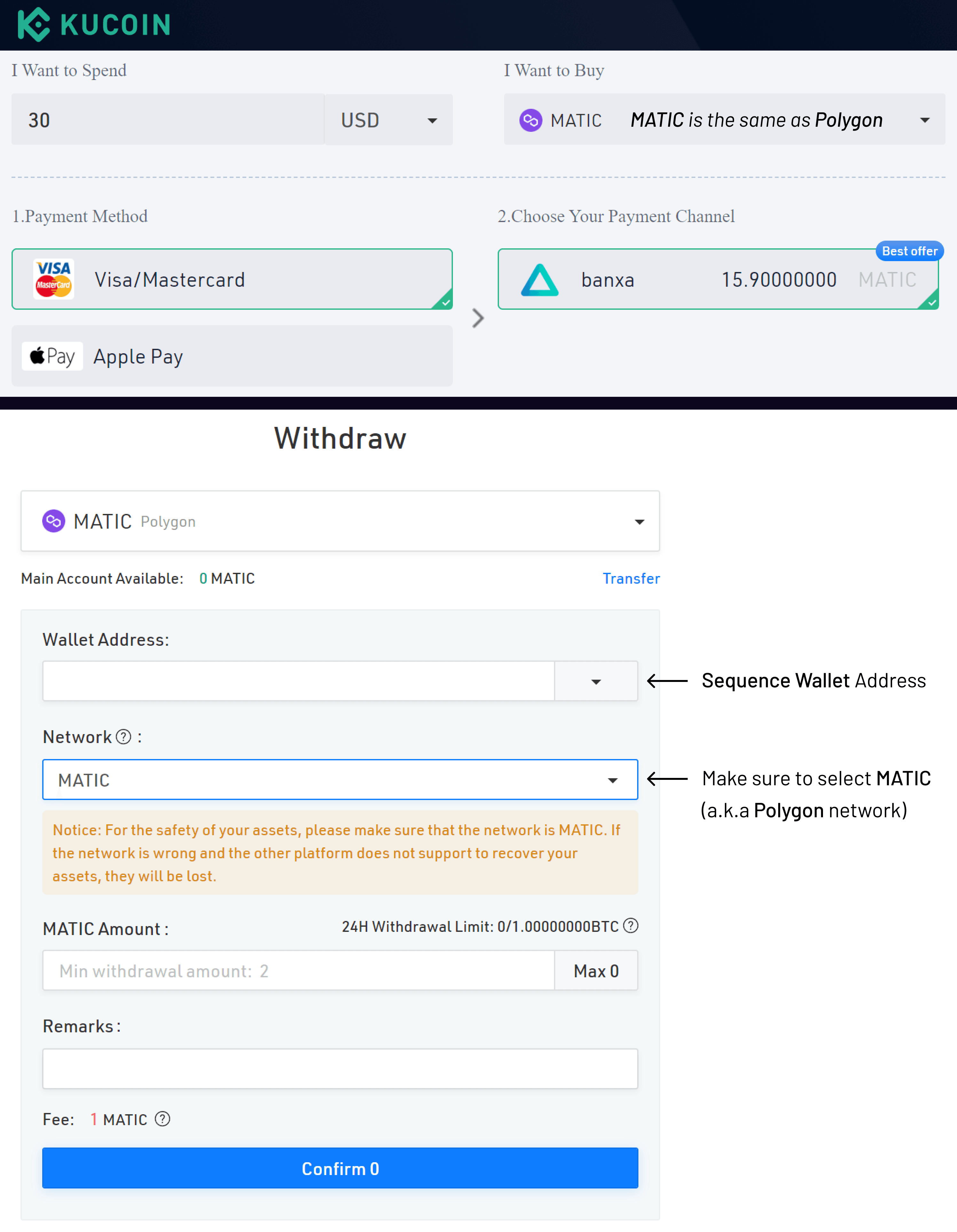 MATIC withdraws are also available on Kraken and Crypto.com app. If you send MATIC to your Sequence Wallet, you could always swap it for USDC using a DEX (decentralized exchange) on Polygon via the WalletConnect feature. Just tap SCAN in the Sequence Wallet to capture the QR code presented through WalletConnect.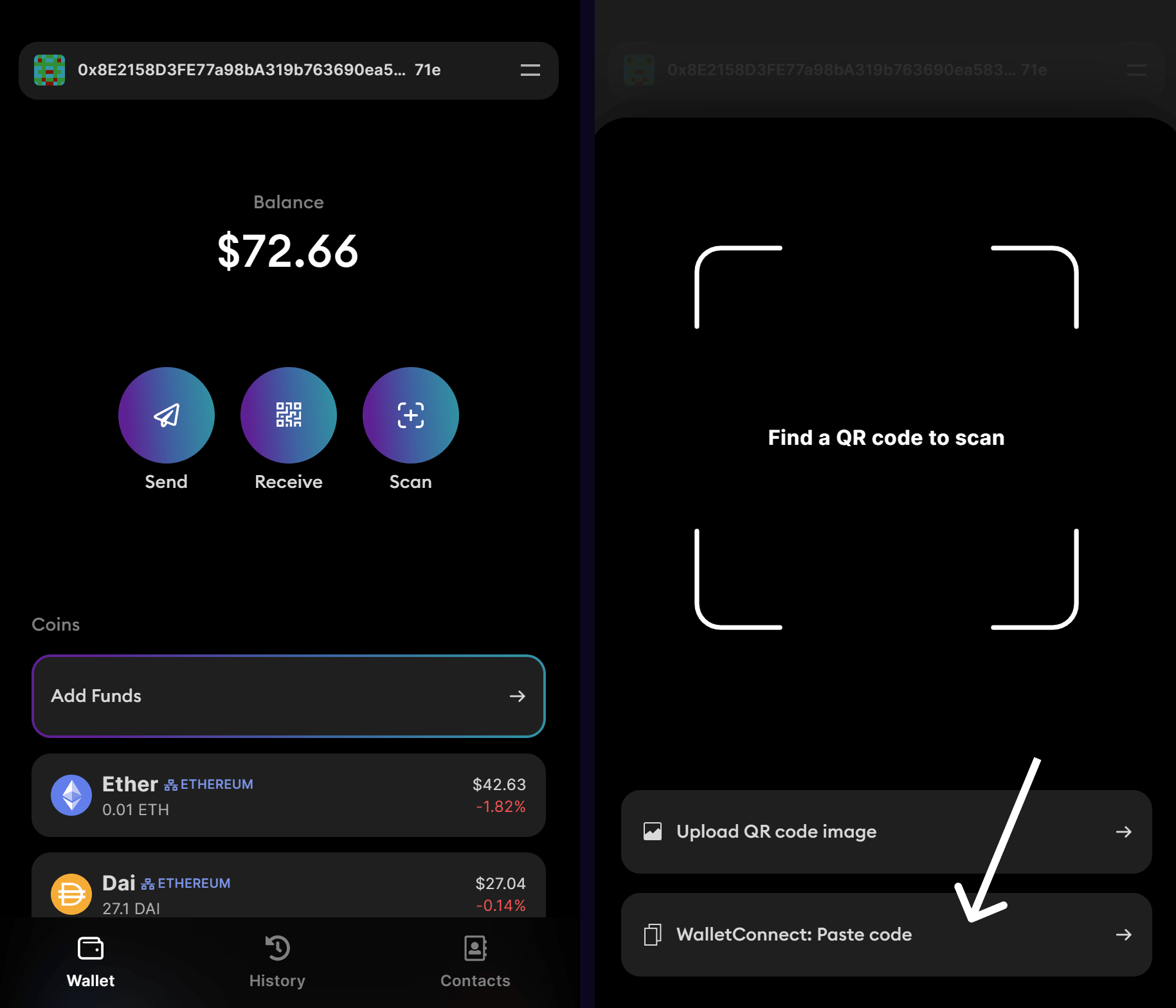 Withdraw fees will vary based on the centralized exchange. As mentioned, Polygon gas fees are nominal (~$0.01) to conduct the swap. You should do your own research regarding which third party platforms or DEXs you wish to use. Horizon is not affiliated with any third party exchange on the Polygon network, but we've had good experiences using Matcha. If using Matcha, make sure you're swapping on Polygon network: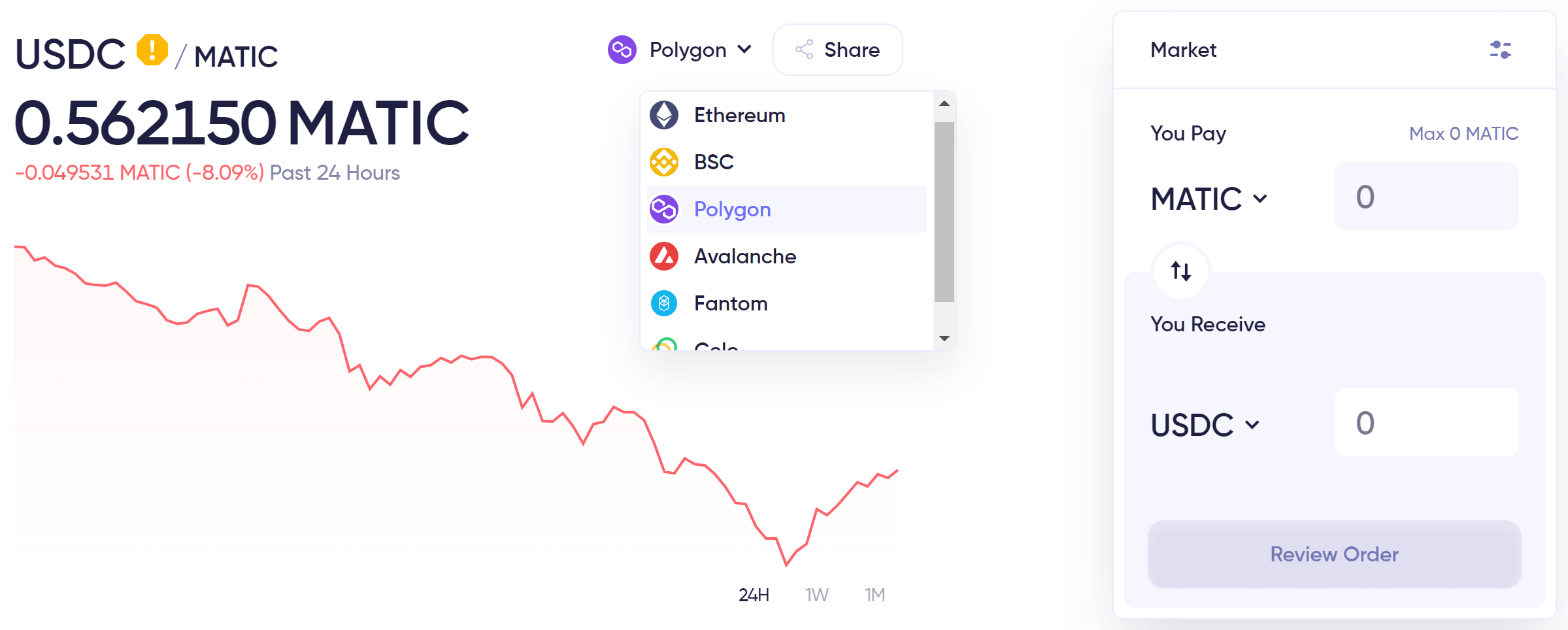 What if my exchange doesn't allow me to withdraw to Polygon?
If your exchange won't let you withdraw to Polygon, you could withdraw your MATIC or USDC to your Sequence Wallet on Ethereum. Now, if you want to avoid the high gas fees on Ethereum mainnet, or if you happen to have MATIC or USDC on BSC, there are many bridging platforms out there that can move tokens from one network to another—not just between Ethereum and Polygon.
We do not endorse any BSC to Polygon bridge in particular, so please do your own research before using one. The team at Polygon has listed these as some options for bridging. The good thing about blockchain is that a lot of these protocols are completely open source—which makes them a lot safer to use, but by no means completely secure. Many of the steps we've discussed in this post pose the risk of loss of funds due to:
Human input error
Token exchange glitches
Smart contract bugs
And more. So please remain vigilant while navigating these emerging platforms, products, and services.
Join The Discussion! 🎙️
To chat with the rest of the Horizon team and our community, join our Discord server! Subscribe to our subreddit to share your ideas, and follow the Skyweaver account on Twitter or Instagram if you just want to say hey!
If you haven't already, sign up to become a Skyweaver today to get invited to play our private beta and let us know what you think of the game!

Recent Posts


Recent Posts