We're back with another balance patch! 💨 This week includes a number of tweaks, a Prism shift, and a simplification of how one of our Enchants works to make them cleaner across the board. After this, we'll be back to our standard biweekly schedule!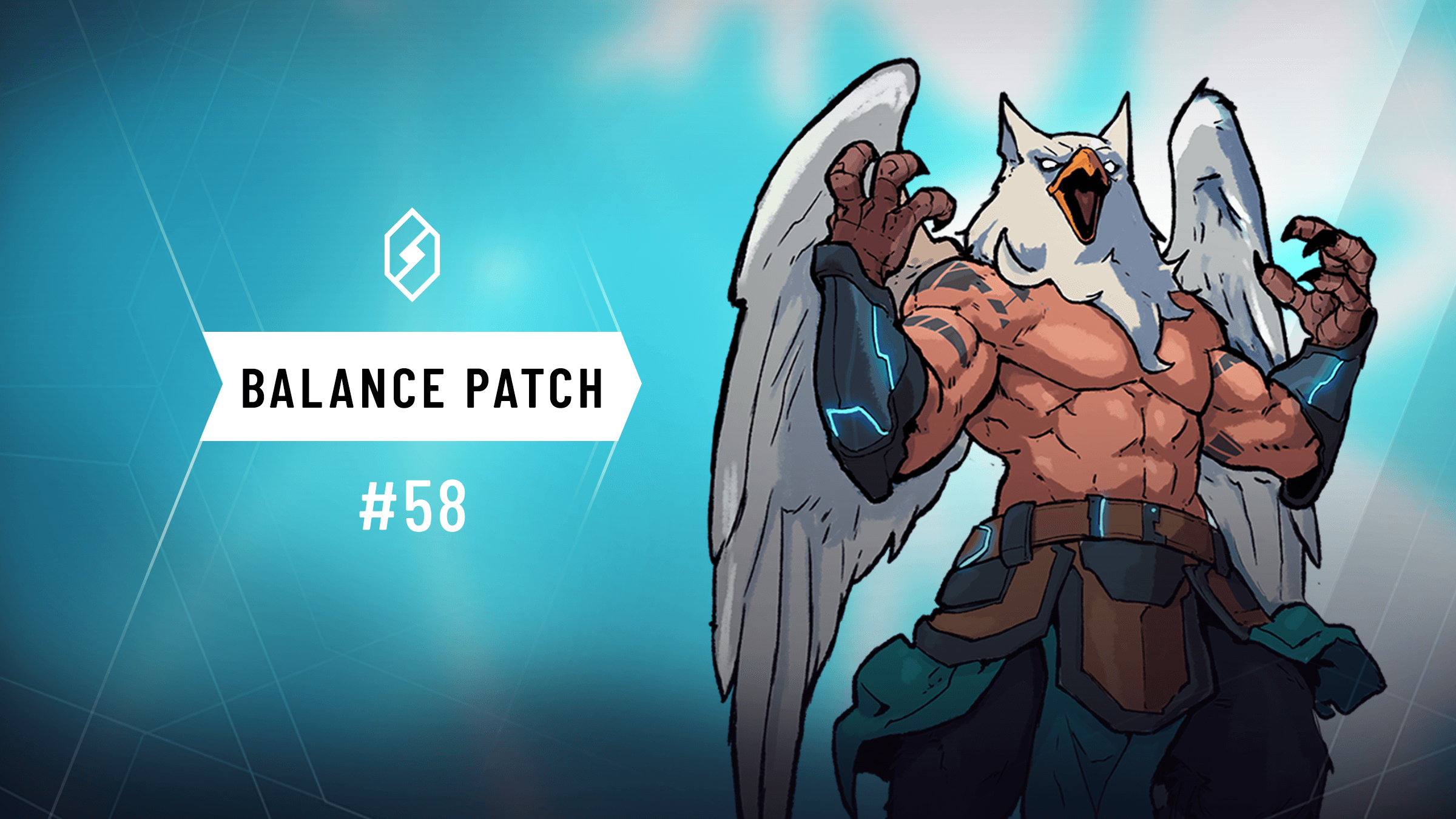 Bugfixes 🐛
Fixed text alignment on card names of units that came with an attachment, but lost it while in play
Units with Play effects will no longer incorrectly reset their stats when they enter play
Righteous will now correctly prevent Death effects from triggering
Fixed buggy attachment visual behavior introduced last patch that was causing missing attachments, incorrect attachments, and empty black cards in place of attachments
Fixed a visual bug where the Hero could return to your hand when playing cards like Whelm
The keywords given by cards like Enfuego will now correctly appear on cards in your hand


Welcome back to our second mini balance patch everyone! After this, we'll be back on our standard biweekly schedule! We've got a number of balance tweaks, a Prism shift, and a fairly impactful simplification of how one of our enchants works, in the service of unifying the rules of how enchants work to make them cleaner across the board. It's a bit of a spooky change on the surface, but it should be worth it.
Chains (579)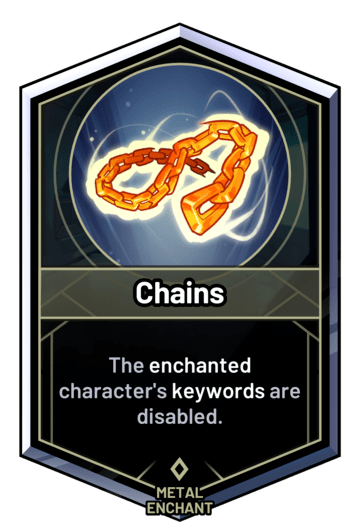 Text: The enchanted character loses all keywords. ➞ The enchanted character's keywords are disabled.
A fairly major change that could have some overarching effects on balance.
Chains is an excellent enchant in terms of playspace, but operated in a weird and unintuitive way compared to all others, in that it had an immediate effect of permanently deleting all keywords on the character it became attached to, meaning they would remain lost even if Chains was later removed or replaced. While useful, this fact made Chains inconsistent with how all other enchants work.
In practice, units hit with Chains would usually die before Chains could be replaced, making the perma-removal effect of Chains low impact when used vs units. The main thing this changes is how chains works against heroes that have gained keywords, specifically Armor, which is somewhat scary, and is the reason why I held off on this change to Chains for so long. However, looking closer, there are currently only 5 cards in the game that are capable of Chaining the hero, so the options to chain armor off heroes were already limited, and with this change, Chaining the hero is still good counterplay, just not a full-stop like before, which in a way, will open opprtunites for us to print more hero chaining cards, since they're no longer as powerful.
I will be watching this change, as it may demand some tweaks to hero-armor tools, but I do think this is a change that is likely to have less impact than might be anticipated, while helping to make the way enchants work a lot more consistent and clean.
---
Silence (989)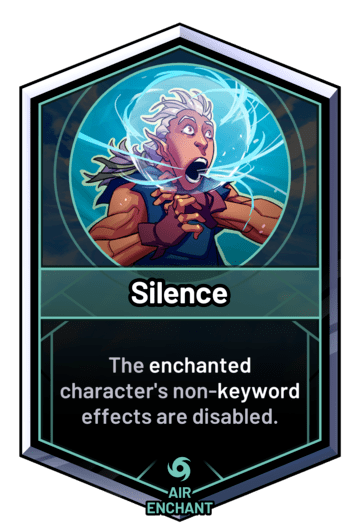 Text: The enchanted character's text effect is disabled. ➞ The enchanted character's non-keyword effects are disabled.
Silence doesn't change mechanically, but its wording is updated to match Chains, and it now specifically calls out the fact that it does not suppress keyword effects, which should make it clearer.
---
Xavi (823)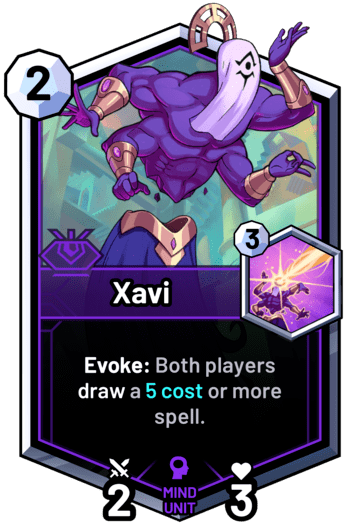 Power: 3 ➞ 2
Health: 2 ➞ 3
Tweak, I really liked Xavi's old statline, a 2/3 is a much better curve play than a 3/2, makes it more appealing to play on turn 1-2.
---
Rhumbo (1111)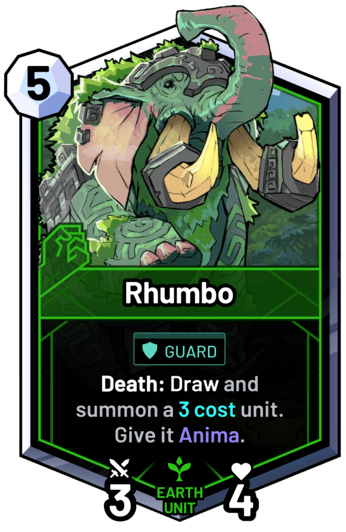 Text: Death: Draw and summon a 3 cost unit. ➞ Death: Draw and summon a 3 cost unit. Give it Anima.
A change I've been interested in trying for a while. I love Anima, and cards that reward players for building around it - spawning in a Mushka or Lau seems strong. Might be a bit potent but it could also delete important attachments, so it makes players think. Rhumbo's front statline is also pretty weak, so I like that this offers counterplay via leaving him alive or withering him to try to weaken his payoff. could also see removing guard or maybe 1hp if he's OP, but I like offering strong midrange tools anyways.
---
Tide Hunter (1002)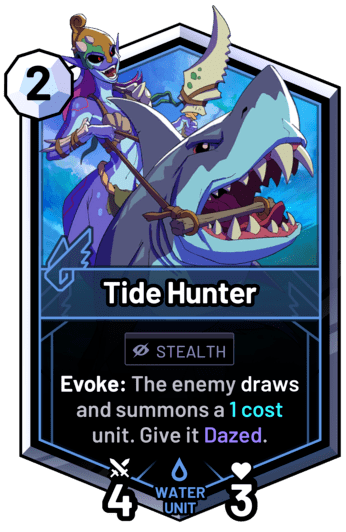 Cost: 3 ➞ 2
Health: 4 ➞ 3
One of the weakest AGY cards, languishing right at the bottom of the prism, so trying -1c and -1hp to make her more appealing, shouldn't be amazing but it should offer more than it did before. Could be a nice Teleport target.
---
Epic Eagle (852)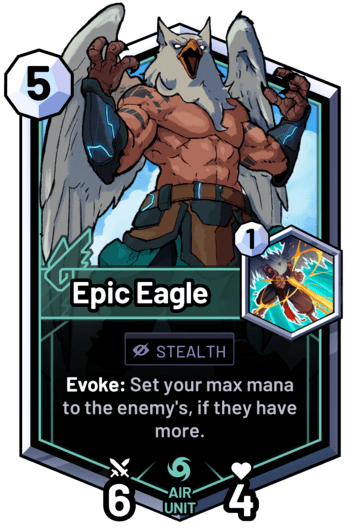 Power: 5 ➞ 6
Had a pretty weak statline, and I would like to buff a few AGY midrange tools to offer better variety to its aggressive options beyond just hyper-aggro.
---
Swamp Walker (88)
Power: 4 ➞ 2
Health: 3 ➞ 5
Statline tweak. I like Walker a lot, but he was pretty fragile. With more of a focus on his hp, he should stick around a bit longer, and might not always be the first thing to die.
---
Webweaver (445)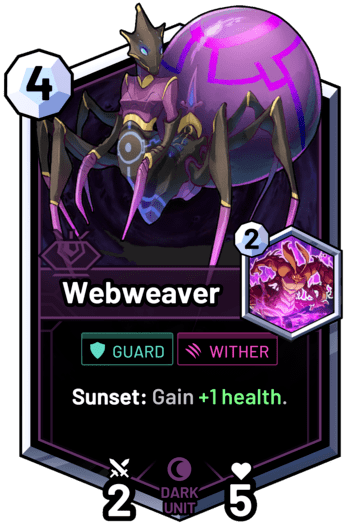 Power: 1 ➞ 2
Health: 6 ➞ 5
Another stat rebalance, lets Webweaver hurt things attacking it a bit more effectively, at the cost of being a tad more fragile.
---
Ensnare (55)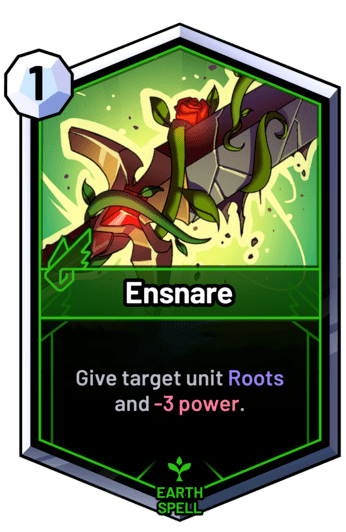 Text: Give target unit Roots and -2 power. ➞ Give target unit Roots and -3 power.
Buff to a really weak AGY card, I do like that it exists, not everything can be a means to go face, after all. I do think that vs non-guard units, this can be a surprisingly effective tempo tool to let you smash face. This is also a buff to Ivy, so that could honestly be scarier in INT as an anti aggro tool. Will need to watch.
---
Snakeweaver (978)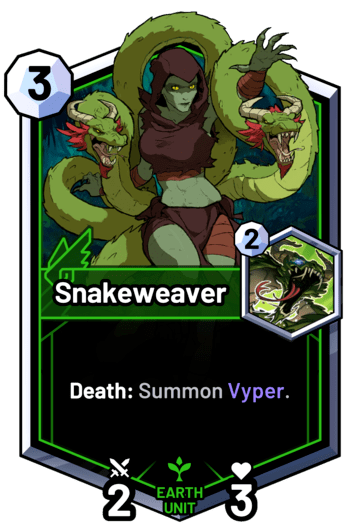 Text: Death: Summon Vyper with wither. ➞ Death: Summon Vyper.
Keywords: wither ➞ None
Power: 1 ➞ 2
Removing a bit of wither and simplifying her death effect while giving a bit more frontloaded stats to make her more appealing - I think she's pretty strong tbh. 3c for 4/4 worth of total stats + 6/2 more at 5c if the enemy has a unit seems real.
---
Ill Will (576)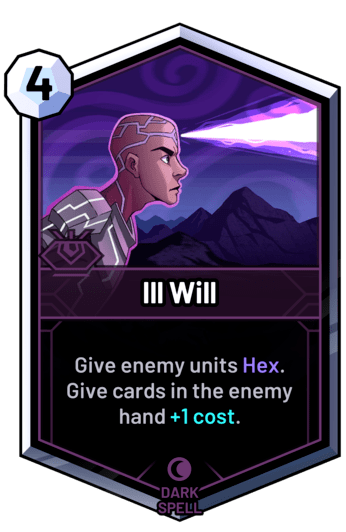 Cost: 5 ➞ 4
Keywords: banner ➞ None
Wis' 4c slot lost a 4c card last patch with Luna moving to 3 and twist moving to 5 and only Salvage moving up to 4. Ill Will is a potent tempo tool, but mass hexing is slow and dangerous, since it won't actually save you if you need an immediate clear, and while upping the cost of the enemy hand is nice, they need to play 4+ cards before the 4 mana you invested actually starts to win back value, so I think this will be ok at 4c. Might be a tad annoying but I think it'll be ok balance-wise. It's also nice as an anti-combo tool.
---
Casket (1173)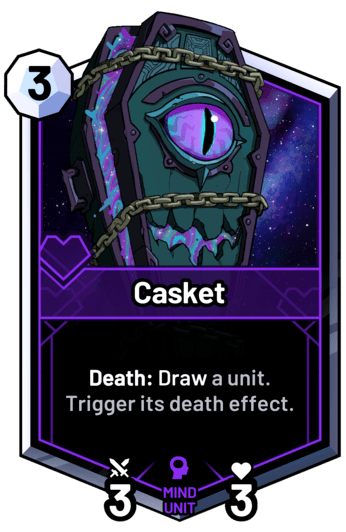 Spell: Chains ➞ None
Simplification, Chains on Casket was mostly a flavor thing, and while I do like flavorful things, I like them to be functional as well, so this seems like a nice place for simplification.
---
Moltenous (877)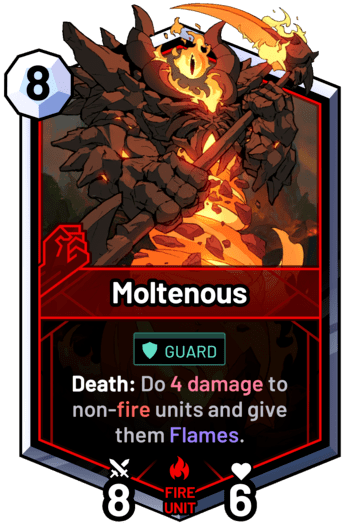 Text: Death: Do 4 damage to each unit and give them Flames. ➞ Death: Do 4 damage to non-fire units and give them Flames.
Tweak, Moltenous is a cool tool, but feels a bit bad since it kind of blows up your own board. now it'll spare fellow fire units its wrath, so it can get along nicely with cards like Tiamat and Mothermander, which should offer it more flexibility and strategic potential.
---
Giza (924)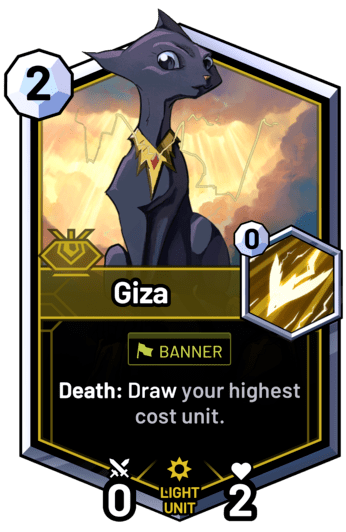 Keywords: guard,banner ➞ banner
Minor nerf to a very potent card, your opponent is still likely to want to clear Giza due to its banner, so I don't see this being too huge of a loss, but it may force you to trade Giza in to get the draw from time to time, meaning you save less life than you would have when your opponent was forced to kill it for you.
---
Flank Rider (983)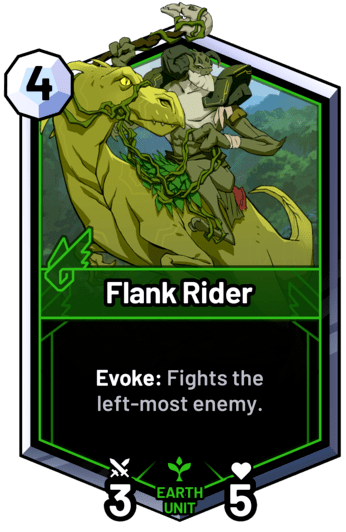 Keywords: stealth ➞ None
Health: 4 ➞ 5
Buff to a midrange card I liked. since AGY midrange as trended down a bit, I don't mind giving it the 3/5 statline back in exchange for stealth. it still lacks wither, but the beefier health may force an extra trade/hero hit into it, and should make it better at smashing into enemy units too.
---
Fly Guy (1126)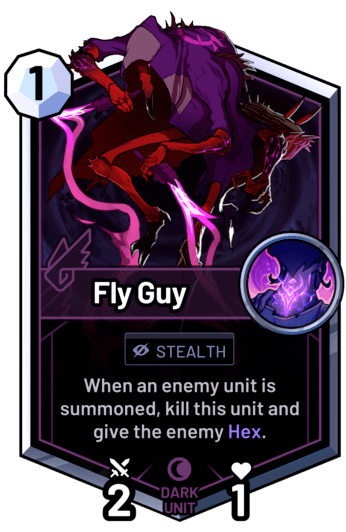 Text: When an enemy unit is summoned, kill this unit to give it Hex. ➞ When an enemy unit is summoned, kill this unit, and give the enemy Hex.
Minor tweak, it used to be worded as "kill this unit TO" which meant if it failed to kill itself, it would fail to Hex the enemy, which I didn't think was possible, but as it turns out, if it was dusted by Righteous, it would count as "failing," and as a result, its effect would be nullified. So I made a slight change here to ensure it can't fail by unlinking killing itself from placing the Hex.
Drag Down (799)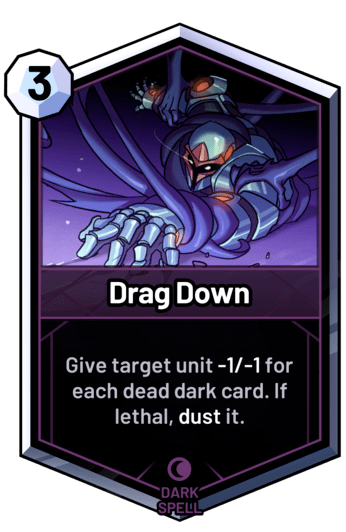 Text: Give target unit -1/-1 for each dead dark card. If lethal, dust it. ➞ Give target unit -1/-1 for each dead dark card. If lethal, dust it.
Prism: hrt ➞ tok
This is a card that people have talked about, but the stats show sees virtually no play, so I'm happy to bench it and just leave it on Broodwitch. I could see it returning when elemental decks are better supported.
---
Glacial Tomb (226)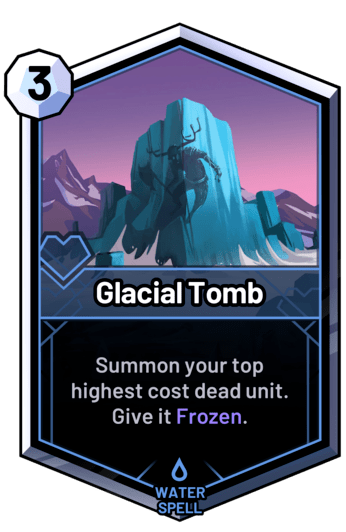 Text: Summon your top highest cost dead unit. Give it Frozen. ➞ Summon your top highest cost dead unit. Give it Frozen.
Prism: tok ➞ hrt
An old classic returns, Tomb isn't the best revival spell, but can work nicely with anima, vapors, lead, or to reuse a potent death or Evoke effect, so I'm glad to welcome it back in the 3c slot opened by Drag Downs benching.

Recent Posts


Recent Posts