Announcing Mini-Expansion #2
A warm March greetings to all denizens of Sky! With winter's chill slowly giving way to spring, we've got some exciting new news for everyone, with another update from The Game Design team. On March 17th, we'll be releasing Skyweaver's second 'Mini-Expansion' to commemorate our first month of Open Beta!
This new Mini Expansion has an overarching theme. It's focused around a unique and integral part of Skyweaver's gameplay - its Enchants!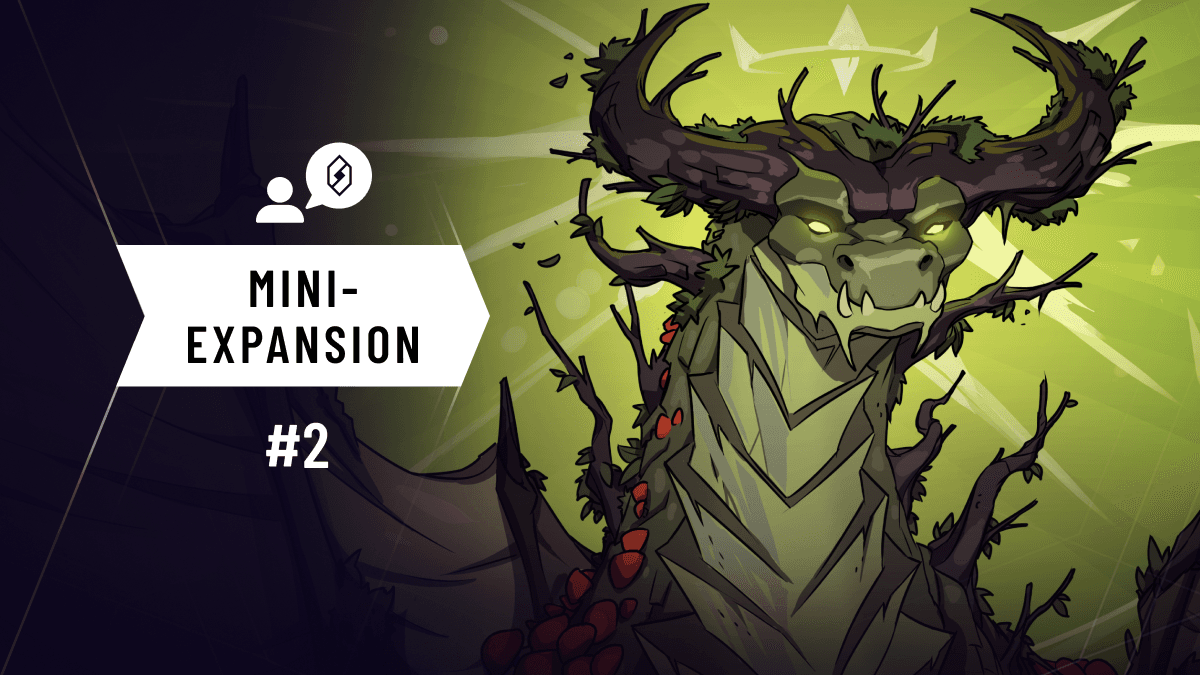 As a quick recap for any new players, like our previous Mini Expansion, this is a set of 10 brand new cards - one Spell and one Unit per Prism. This Mini Expansion is centered around the Enchants of Skyweaver, and offers players new ways to employ and activate the effects of our Enchants. As a sneak peek, this set will feature a card that will make for a powerful combo with a particular card in Heart, an Agility card that can whip aside all defenses, and a Wisdom card that's a callback to an older enchant-focused card that left the game some time ago.
Now, teasers are all well and good, but I'm sure everyone's wanting a bit more than that, so let me introduce our newest card, one that I've been excited to reveal for some time now, another member of our cycle of Elemental Dragon Spells, Amaruath's Will!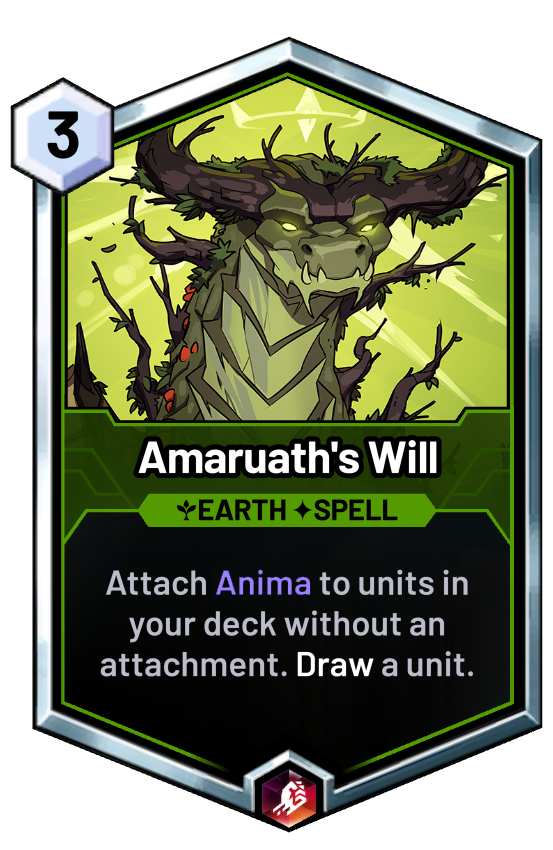 "Eldest child of the Goddess Ethera, Amaruath is the greatest guardian of her domain, the Etherwald, and watches over the innumerable creatures that call it home. Though he possesses great strength, Amaruath is patient and slow to anger, preferring to deter would-be invaders with his control of the living forest, rather than engaging in pointless bloodshed. Among the creatures of the Etherwald, and indeed, all of Sky, Amaruath has a particular fondness for those who possess unrealized inner strength, or have yet to reach their full potential, and bestows his boons upon such creatures to foster their growth and success."
Reflecting Amaruath's nature as a source of strength, and nurturer of others, Amaruath's Will bestows boons upon those Units in your deck that have not reached their full potential, and lack attached Spells or Enchants of their own in the form of the Anima Enchant, allowing them to grow to even greater heights. Amaruath's Will can allow for some explosive and impressive combos in tandem with Units that attach Spells to themselves, like Light Ranger and Earth Warden, as well as combining with cards like Hope  and School of Fish to activate multiple instances of Anima simultaneously, and that's to say nothing of its synergies with other cards in this mini set, which can further bolster its effectiveness. Amaruath's Will rewards decks that build around it and maximize its potential. It was a blast in our internal testing, and we're so excited to see what kinds of mighty strategies our players can develop using it!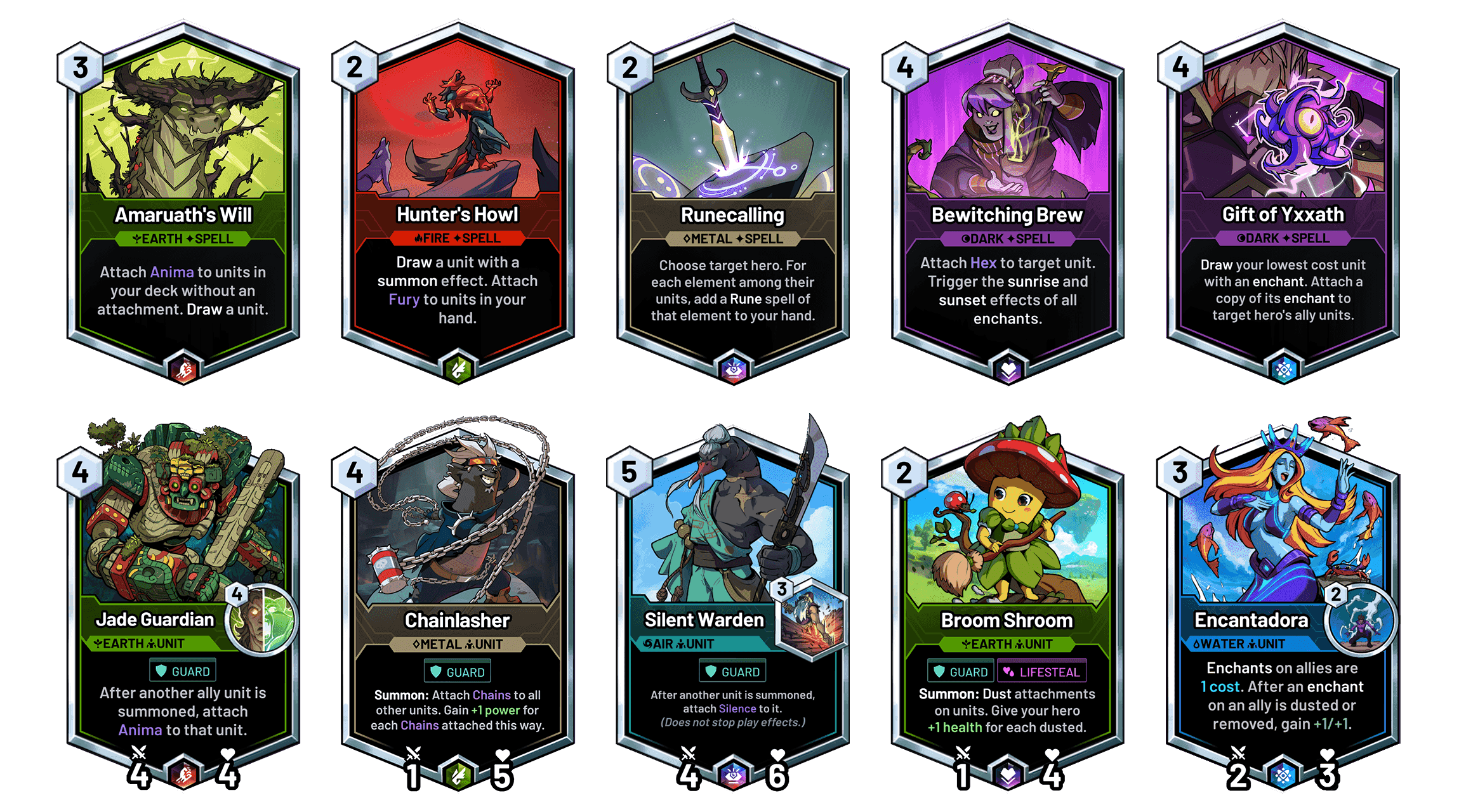 Follow us on Twitter @Skyweavergame to get an early sneak peek of the next five cards we'll be revealing over the next two weeks - be sure to follow us there to catch all the updates! Additionally, our community's own MissaurusRex will be previewing two amazing new cards, and two additional pieces of art for yet unrevealed cards, on her Twitch channel at 8pm EST on Thursday, March 10th, so you'll definitely want to stay tuned for that!
As more cards are revealed, we'll add them to the gallery in this blog post. During our next balance patch on Wednesday March 16th, during our community livestream on Twitch, we'll showcase the final unrevealed cards. Before I go, I'd like to share one other teaser in the form of some stunning art for another card from the set, a relic from the Saurian Jungle, the mighty Jade Guardian!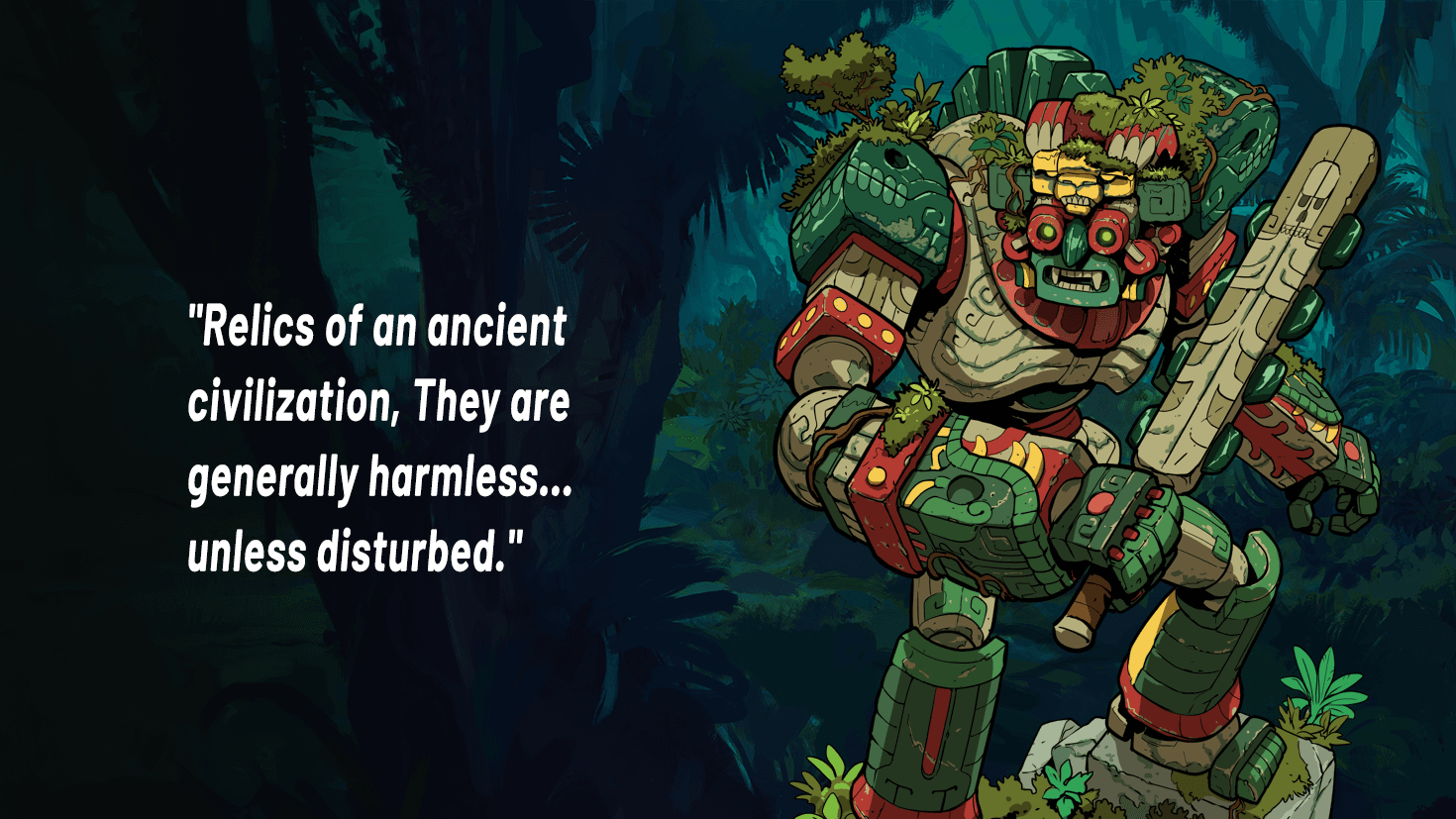 On that note, we'll have to leave you for now, but we're so excited to be able to share some more amazing new cards with you all. It's an exciting time for us, Skyweaver, and the community as a whole, and you won't want to miss a moment of it!

Recent Posts


Recent Posts