Invite-A-Friend: Earn free Stickers
From fun-loving Fun Guys to a well-fed Dracomantium, Stickers are the all-encompassing expression items in Skyweaver! You can use them to communicate during a match in addition to the standard Hero messages. The first way to acquire these cuties will be through the Invite-A-Friend feature!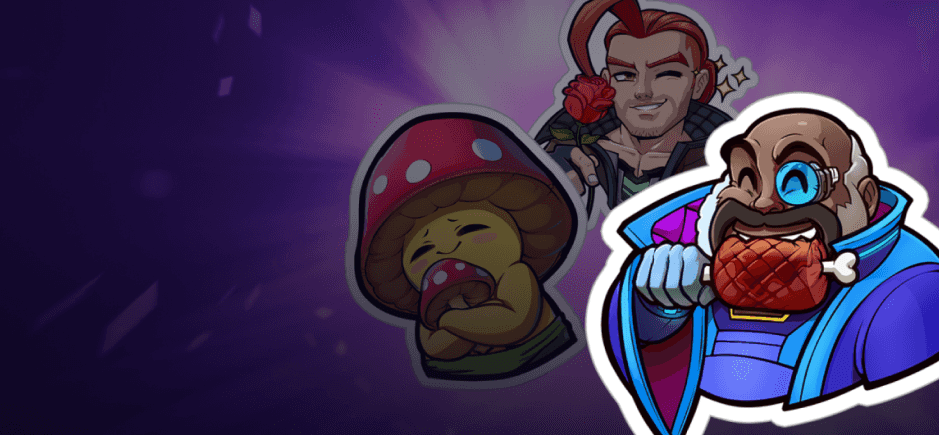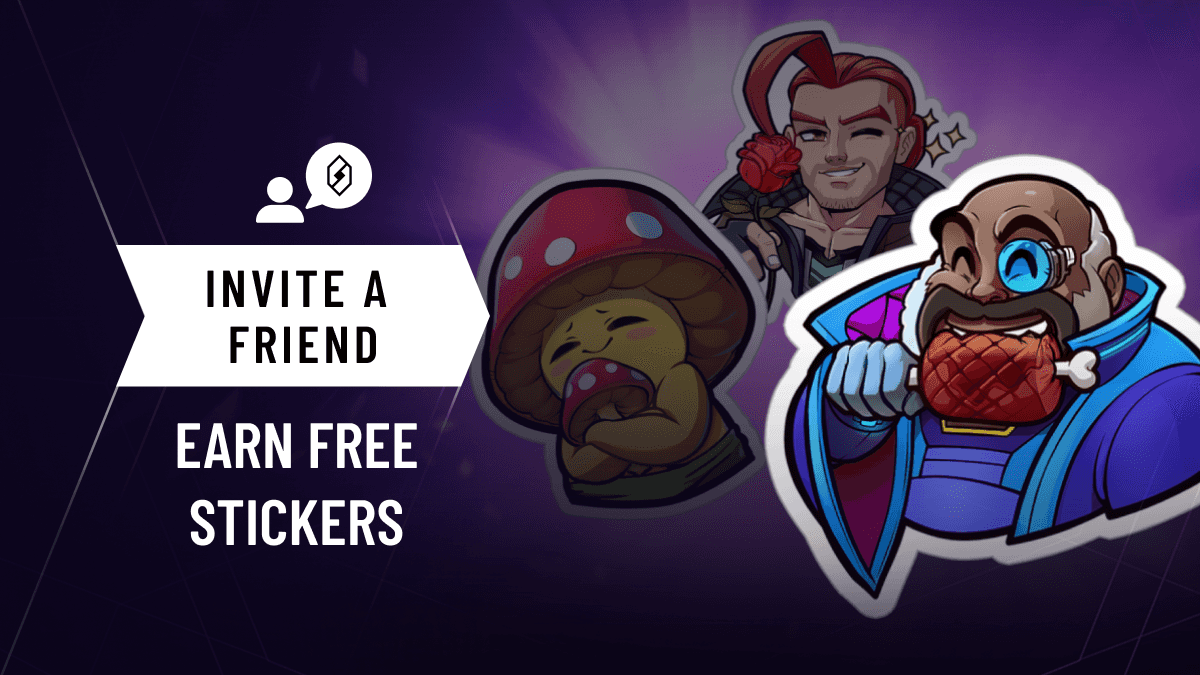 Stickers: New Cosmetic Item ⭐
"Hello", "Well played", "Greetings", "Well played", "Hello"... "Well played". This is fine right? No it's not! The people need to communicate! How can we expect to progress society and have rich meaningful dialogue with just single word responses? How can we express our triumphs, our sorrows, while only being able to cry out "Thanks". Neigh, we need something that can transcend the capabilities of human expression itself! And that can only be done with one thing... Stickers!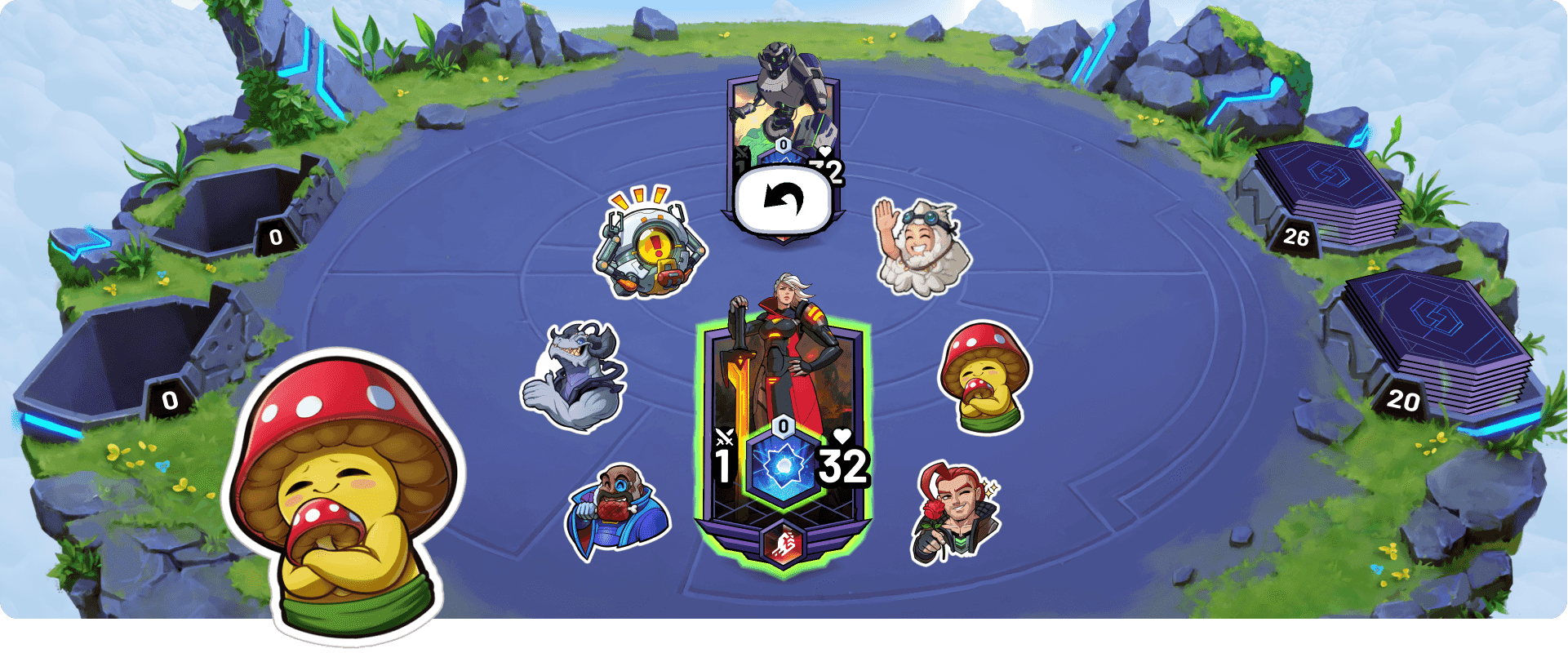 Stickers are tradable cosmetic items players can collect in-game through the new Invite-A-Friend feature. Those who collect more than 6 will eventually be able to toggle between their favorites from the menu screen and choose which ones they will like to bring into a match. If you want to use a Sticker you collected, tap your Hero in-game to bring up the emote wheel! You can also use your Stickers while spectating a live match!
Invite-A-Friend 🙋
Or brotha, or sista! Anyone you think will appreciate your call to action! Those you invite will grant you points each time they level up in-game. Collect enough points and you'll be eligible to win free Stickers! The Stickers will show up in your Sequence Wallet after they're minted and will soon be visible from the menu screen in-game.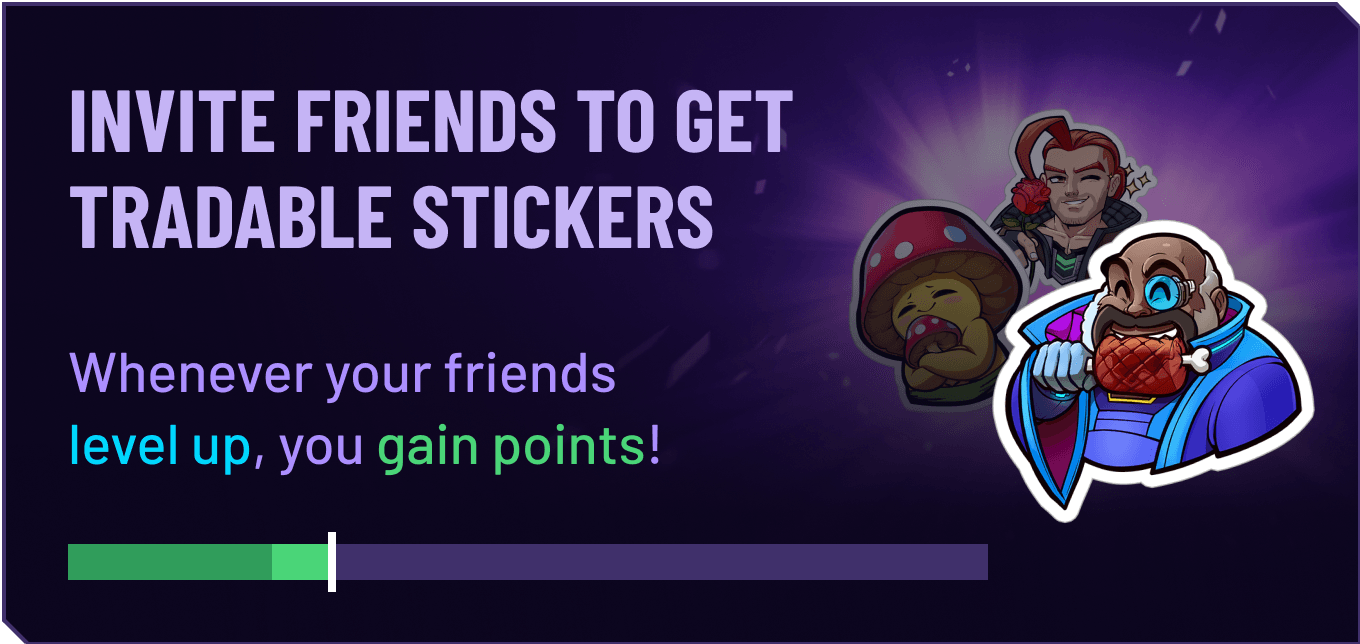 The next time you log into the game be sure to check out the news bar to access the Invite-A-Friend feature and see which Stickers are available to win! The "NEW" tag will be placed overtop so it'll be easy to spot 😉
How many points do I need?
That depends how many Stickers you want! Each season (every 28 days) new Stickers will be offered. If you accumulate enough points during the season, you could receive them all! Eligible players will receive their items in their Sequence Wallet 24 hours after unlocking one.
⚠️ The Invite-A-Friend feature is launching a few days into the current season, so it'll be especially challenging to collect all 3 being offered when this feature goes live. Don't worry though, you can always trade for them!

Note: Once a season is over, Horizon will mint a few dozen copies of each Sticker to seed the Market and enable trading. After this, the Stickers will never be offered again and their supply will be locked
How do I invite my friends?
You'll be able to send friends a unique link where they'll be directed to the account creation screen. Upon creating an account and leveling up, they'll begin to grant you points towards your Sticker progression automatically.

Can I link my friend's address after making an account?
Of course! If you scroll down to the bottom of the Invite-A-Friend page you'll be able to enter the Sequence Wallet address of your friend. This option is available for those who already created an account, but want to support their friend. Players can locate their wallet address by tapping the wallet icon on the menu screen.

How many friends can I invite?
You can invite as many friends as you wish! However, only the points from your top 5 performing friends will be counted. That means, if you invite 7 friends that each would've given you 10 points from leveling up, only a total of 50 points will be counted towards your progress. You can monitor each friends' contribution via the "Invited Friends" tab.
What happens to my surplus points?
If your top 5 friends give you more points than you'd need in a given season, those extra points will carry over to the next season!
That's all for now, happy collecting! Let us know if you have any questions about the Invite-A-Friend feature or Stickers in general.
Join The Discussion! 🎙️
To chat with the rest of the Horizon team and our community, join our Discord server! Subscribe to our subreddit to share your ideas, and follow the Skyweaver account on Twitter or Instagram if you just want to say hey! Also—we're on TikTok! Skyweaver is in Open Beta and you can play free now at play.skyweaver.net.

Recent Posts


Recent Posts