Creators Program update: Welcoming Ambassadors
Hello, Skyweavers!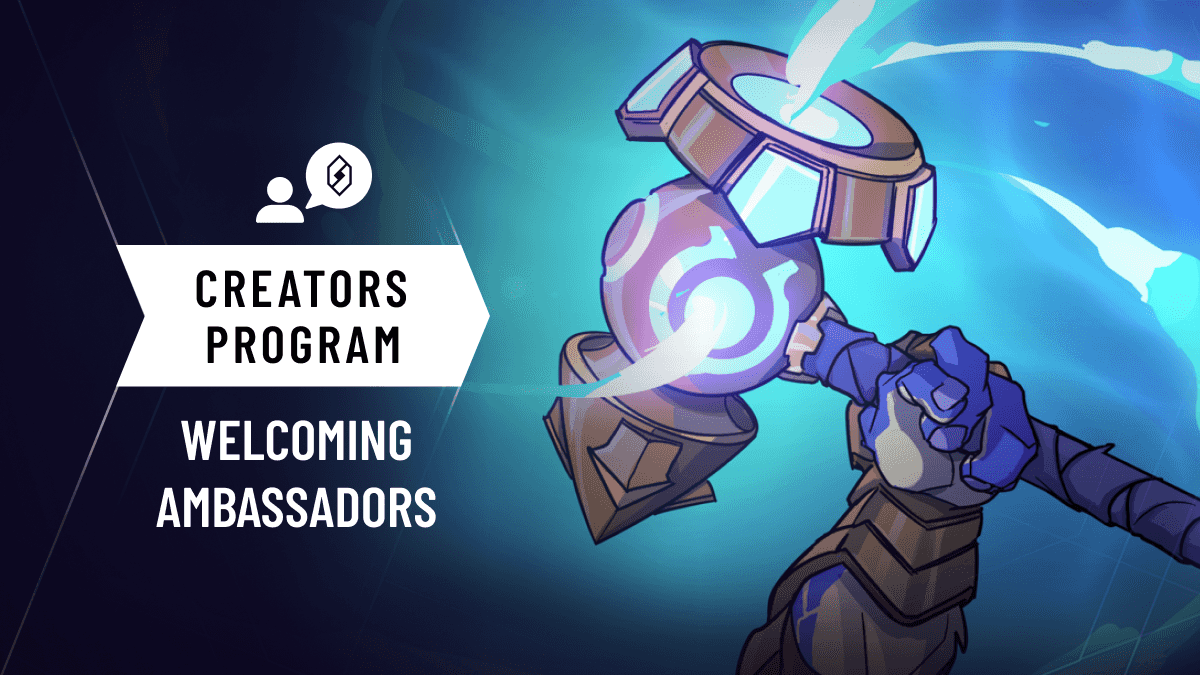 The Skyweaver Creators Program is where creative and engaged community members can benefit from rewards, perks, exclusivities, and more! The Creators Program helps to nurture creators big and small; whether you're just getting started as a streamer, or have been doing it for years. There is something for everyone. From fan artists and cosplayers to tournament organizers and streamers, every kind of creator is welcome. And, in addition to joining an inner circle, you'll be part of a community that supports, loves, and helps one another.
WE WANT TO HELP YOU GROW.
BY HELPING YOU GROW YOUR AUDIENCE, WE GROW AS A GAME AND AS A COMMUNITY.
To join the Creators Program it's as easy as signing up via this email form on the Creators Program landing page. All are welcome to join! No application process necessary.
Today, we'd like to announce the next level of our Creators Program: we are proud to introduce you to our official Skyweaver Ambassadors Program!

What is this program, and why do we need one, I hear you ask? It's pretty simple: we've always said that we would do our best to support the creators that really put the time and effort into making quality and frequent content for Skyweaver. Of course, that demands time and other investments, and this is where we come in!
If you have been regularly creating Skyweaver content over Twitch, YouTube, TikTok or any other platform, get in touch with us! Depending on your frequency, size and quality, we are willing to support your channel with a monthly stipend ($$), plus access to community rewards such as cards. If you are accepted, you will also receive the official Ambassador title, and we'll do our best to promote and increase the reach of our official Ambassadors.
How to Become a Skyweaver Ambassador?
STEP 1: Apply. Apply to the program by filling out this form.
STEP 2: Create. We will contact you individually by email to get more information before you can be accepted to the program.
STEP 3: Get paid. Reap the rewards and benefits of being an official Skyweaver Ambassador!
Got any questions about the Ambassador Program? Shoot us an email at: [email protected].
Perks & Benefits of the Creators and Ambassadors Program
As another token of our appreciation to our Creators and Ambassadors, we'll have two exclusive Crystals that can only be obtained through participation in our Programs—or by trading, of course!
EXCLUSIVE CRYSTALS! 🥳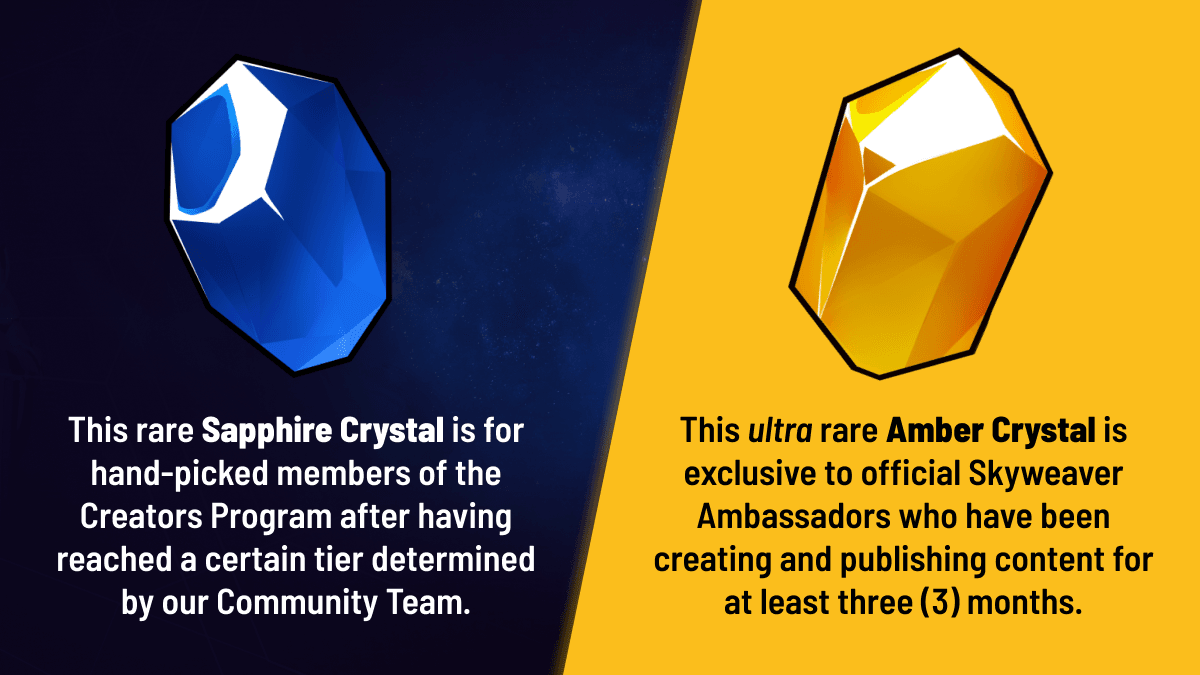 Ambassadors will get this ultra rare Amber Crystal for regularly creating and publishing content about Skyweaver for at least three months, and 800 hand-picked Creators Program members will get the Sapphire Crystal as they continue to engage and create cool content for the Skyweaver community.

There will never be more than 800 Sapphires and 400 Ambers. And like all the other Skyweaver Crystals, they will change the color of your username in-game, showing everyone that you are a big deal in our community.
GET IN TOUCH!
Apply to the Skyweaver Ambassadors Program by filling out and submitting this application form. All Skyweaver Creators and Ambassadors are expected to follow our behavior guidelines by following the Way of the Weaver. Failure to do so and creating or promoting harmful content will strip you of any privileges and perks associated with the Skyweaver Creators Program and Ambassadors Program.
We really hope this assistance will help your platforms grow, and that it will foster an even stronger community around Skyweaver! It's important to note that there is no need for exclusivity in your content, because we are all gamers over here, too, and we understand that sometimes variety can be the spice of life.
Interested? Get in touch with us at [email protected], and let's start this partnership!

Recent Posts


Recent Posts