Preseason & Season 0 Reward Reveal: Limited Edition Gold Card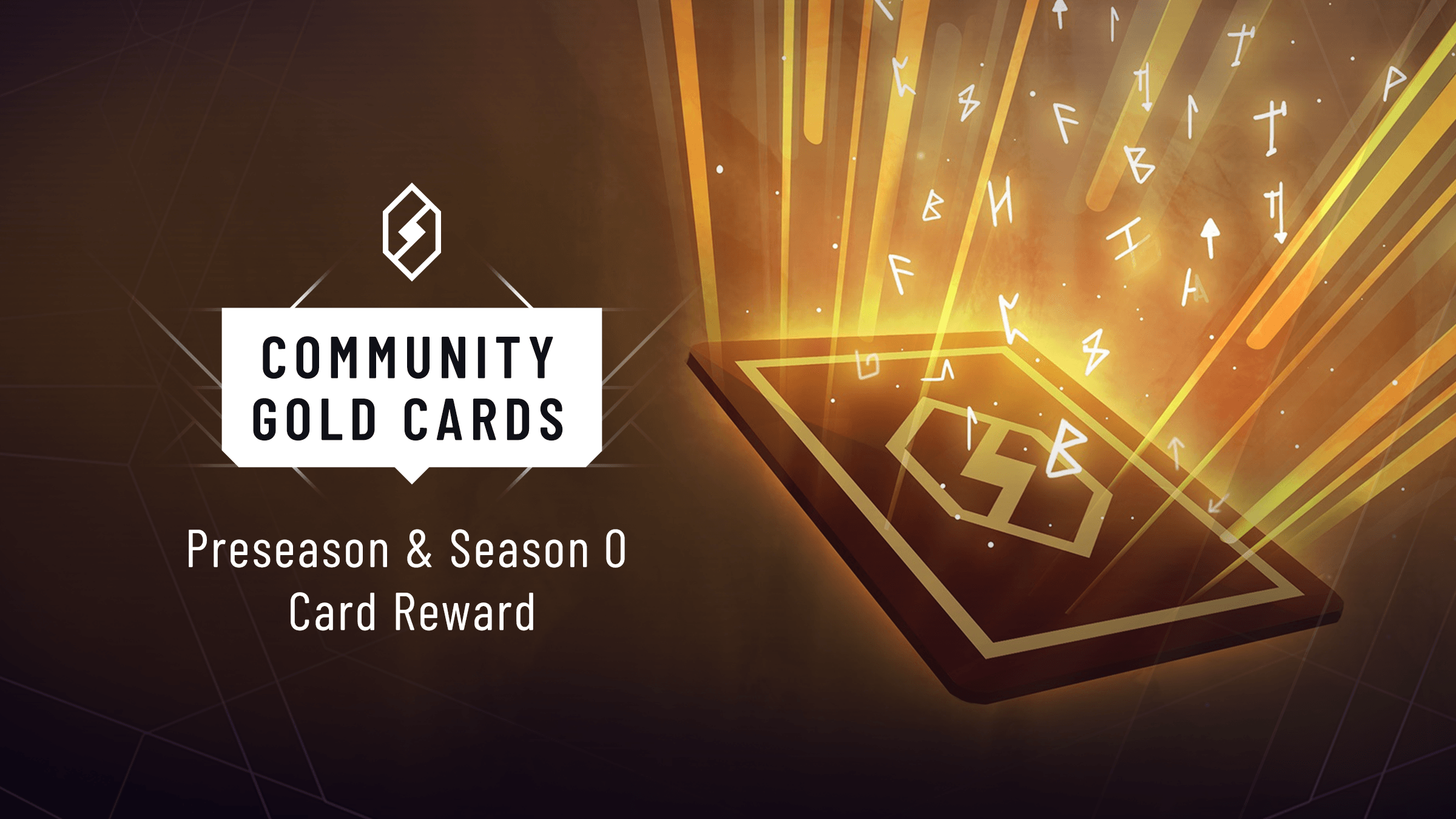 If you ranked at the top of the leaderboards in Preseason, or if you rank at the top of the leaderboards at the conclusion of Season 0, then you're eligible to receive a rare GOLD card deposited to your account once Open Beta begins! Read all about Gold cards and more in our Economy Overview blog post!
Gold cards are tradable blockchain cards. They will have a controlled supply, which makes them rarer!
Preseason ended in March, and over 500 players became eligible to receive a rare Gold card once Open Beta begins.
Season 0 is still happening right now! So jump in the game, play some ranked matches and try to get to the top 500 of the Constructed or Discovery leaderboards to secure your spot to receive a rare, limited edition Gold card at Open Beta!
Skyweaver's next two phases of development, the Final Testing Period and Soft Launch are coming next. The start of Soft Launch will be when Season 0 will come to an end. Time is limited. Be sure to try and secure your top spot before Season 0 ends!
Limited Edition Gold Cards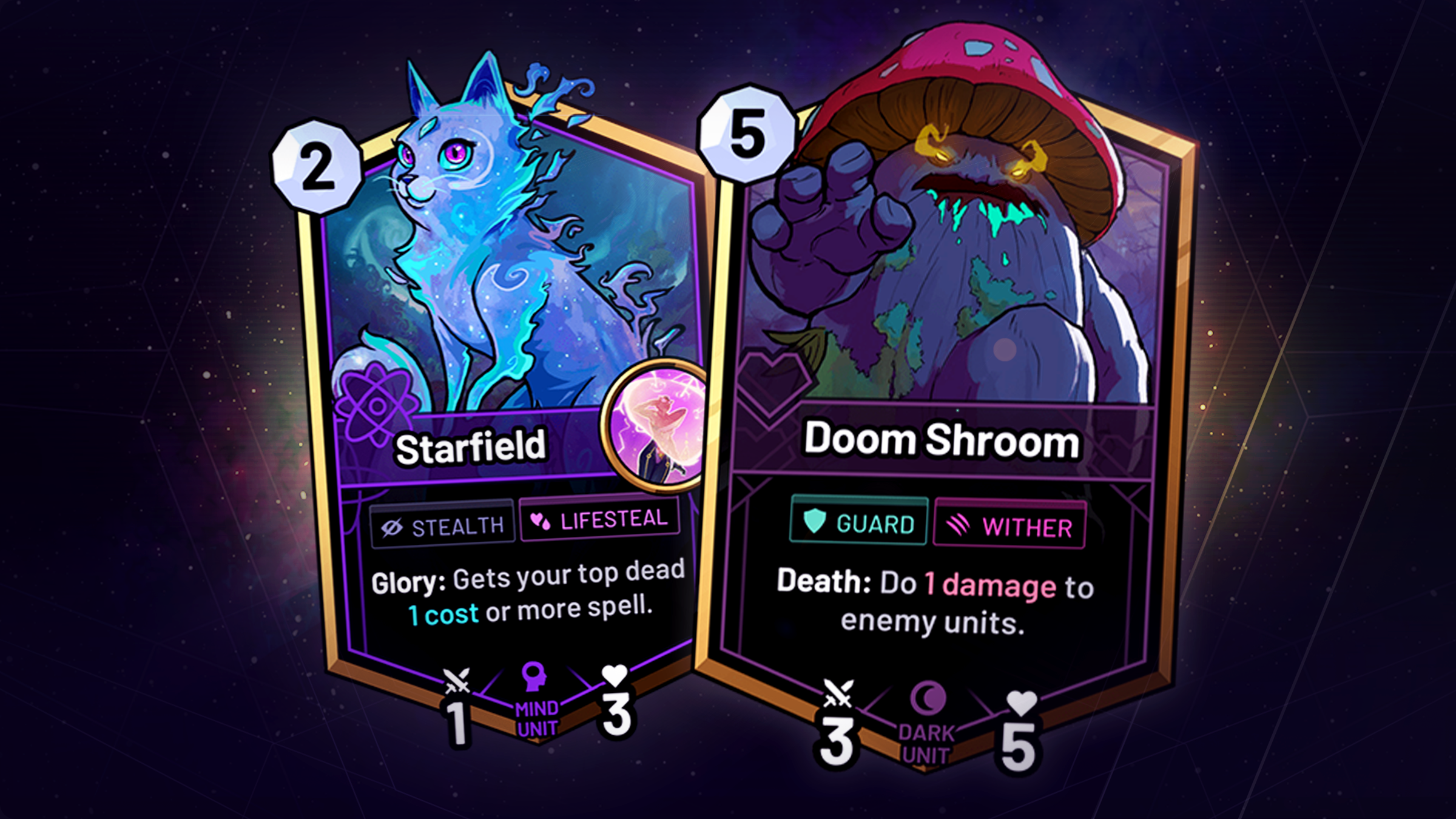 Today, we're excited to unveil exactly what the Gold card reward will be! When Open Beta begins, eligible winners will randomly receive *drum roll*...
1 Gold Doom Shroom   OR   1 Gold Starfield
These two Gold cards are limited edition and will only be printed once. For these two particular cards, only 800 of each card will ever exist in the world! Therefore, your chance to own one for yourself for FREE is to keep playing Ranked matches to try to secure your spot within the top 500 in the Constructed or Discovery leaderboards!
We hope you enjoy this exclusive gift and thank you again for your continued support in testing our game :)
For a deep dive on our Economy, check out this post!
FAQ
Can I receive multiple rewards?
Yes! If you rank high enough in both Preseason and Season 0, you'll receive multiple rewards for any leaderboard you are eligible for (Constructed and/or Discovery), up to four cards (two for Preseason, two for Season 0).
Do Gold cards provide a gameplay advantage?
No, Gold cards do not provide any competitive advantages during gameplay. The difference between unlocking the Base card version for free and winning the Gold card version is that these Gold cards are rare, they have a golden frame for cosmetic appeal, and Golds are tradable cards that you can sell, gift, or trade.
But I wanted the other card 😢
If you wanted a Doom Shroom but received a Starfield (or vice versa), you can always trade with a friend or sell the card you won and purchase a different card anytime in the Skyweaver Market. Since Gold cards are tradable in the Market, you are free to trade your Gold card(s) until your heart's content! :)
Where is the list of winners?
You can view the list of Preseason winners here. We will update this list with Season 0 winners once Season 0 has ended. Please remember your username and password to claim the reward—without them, there won't be any way to claim your reward.

Will there be another chance to win these?
Yes! It is expected that about 50 of each card will be left over once the distribution is complete. We will give away these extra Gold Doom Shrooms and Starfields via community events, so keep an eye out for those!
Join The Discussion! 🎙️
To chat with the rest of the Horizon team and our community, join our Discord server! Subscribe to our subreddit to share your ideas, and follow the Skyweaver account on Twitter if you just want to say hey!
If you haven't already, sign up to become a Skyweaver today. Get invited to play our Private Beta and let us know what you think of the game!
Check back here again soon, and to get notified on our latest blog posts, subscribe to our newsletter.

Recent Posts


Recent Posts